14th annual Amnesty International FilmFest comes to Nelson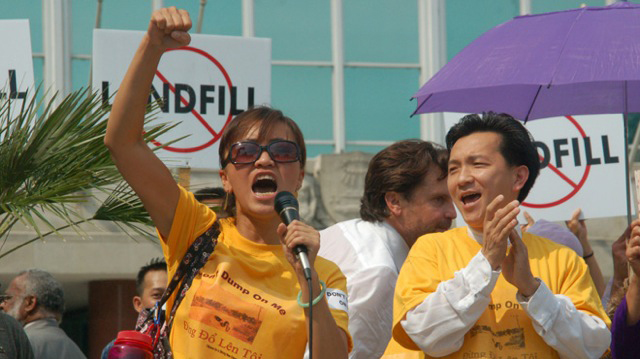 Every year since 2001, a group of committed Amnesty International volunteers has put on a human rights film festival in Nelson.
This year's offering will take place on January 31 and February 1 at the Shambhala Music and Performance Hall, Tenth Street Campus of Selkirk College.
This 14th annual festival continues the tradition of showcasing documentary films for West Kootenay residents that are informative and thought provoking, and highlight a wide range of human rights themes and issues, crossing cultures, languages, and even time itself.
The Friday evening showing, beginning at 7 p.m., features two films that highlight the resilience, courage and strength of people working to protect human rights.
Forbidden Voicesprofiles three women bloggers, not frightened by dictatorial regimes, whose activist writing shakes the foundations of the state information monopoly – putting their lives at great risk. 
A Village Called Versailles tells the story of an isolated community in east New Orleans known as Versailles, originally settled by Vietnamese boat people.
As residents rebuilt their homes and businesses after the devastating Hurricane Katrina, they discovered a strength and voice that united them to successfully fight against a "government-imposed toxic landfill.
Saturday afternoon, starting at 1 p.m., consists of two films that put the human rights spotlight firmly on Canada.
Third World Canada, set in the backdrop of the aftermath of the suicide of three parents in a remote Ontario Native community, explores the impact of third world conditions on the children left behind and a community's courage in looking after them.
On the Lineis an eco-adventure documentary like no other, as we follow the rough and tumble journey of the filmmakers that reveals the severe risks and consequences associated with the 5.5 billion dollar Northern Gateway pipeline project.
The 7 p.m. Saturday evening showing takes us to El Salvador and South Africa.
Children of Memorytells the story of the search for hundreds of children who disappeared during the Salvadoran Civil War, weaving together three separate yet intertwined journeys in the search for family, identity and justice in El Salvador.                                                                                    
We close the 2014 festival with a timely homage to Nelson Mandela. Music for Mandelaexplores the role music played in the remarkable life of one of the world's most important icons.
The effects of this relationship continue to ripple through the poorest South African townships as well as the world stage.
Tickets are available at Otter Books in Nelson or at the door. But as seating is limited, people are encouraged to buy advance tickets.  Each showing of two films is $10; all three for $25.
Doors open Friday and Saturday evenings at 6:30 p.m. and 12:30 p.m. on Saturday afternoon.
The public is welcomed to learn from and celebrating the remarkable work of these talented filmmakers who work against long odds, short finances, and threatening politics to bring to the screen powerful stories of human struggle, sacrifice, and triumph.
Go to Facebook 'Nelson BC Amnesty International FilmFest 2014' to see film trailers.