Sutherland overcomes power outage to capture Nelson Ladies Bonspiel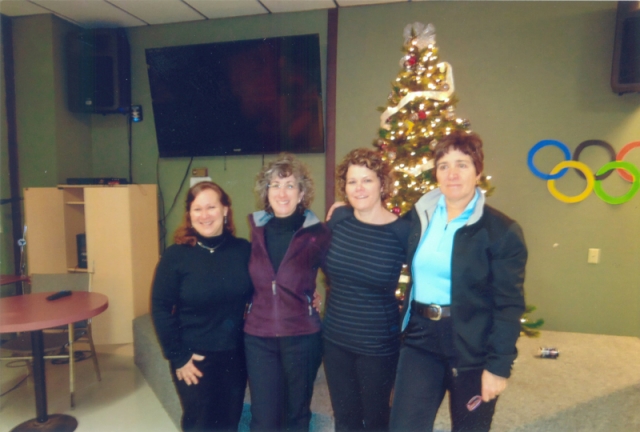 By Terri Richardson, Nelson Curling Club
Well, if you were watching the "Roar To The Rings" Olympic curling qualifier on television this past week, you were probably glued to your seat as you watched sixteen of Canada's, and probably the world's, best curlers battle it out for the optimum experience of any athletes career, to represent your country at the Olympics. 
While the semis and the finals were garnering the country's attention, the Nelson Curling Centre was hosting its own Olympics in a bit of a different fashion. 
It was called The Redneck Olympics, which was this year's theme for the Ladies annual bonspiel.  Teams from throughout the West Kootenays battled it out in the three-event spiel to have a local team garner the gold medal. 
The A final saw Allison Sutherland's team, comprised of third, Janis Murphy; second, Deidre Lang; lead, Allison Hutchinson defeat Team Deanna Cownden with third, Marlo Tedesco; second, Michelle Kooznetsoff; lead, Jill Zwik. 
Even a city wide power failure in the seventh end could not deter the Sutherland rink from regrouping and continuing on with their control of the game by handing Cownden a defeat of 7-2.
The B event winner Team Deb Detredemand handedly defeated the Jill Winters team and C event winner Team Marla Dreher had a solid victory over the Kelli May rink.
Olympic activity will carry on at the curling centre with the "Little Rockers" holding a Curling Skills Olympic competition in Pygmy Curling on (Thursday) December 19 at 3 p.m. 
Drop by to watch these miniature curlers tackle the challenges.
Interested in joining curling? 
There is a mid-season registration opportunity.  Check out the Nelson Curling website at www.nelsoncurling.com to connect with a league rep.