Sheriff Services get their man, Nelsonite Dave Zarikoff joins ranks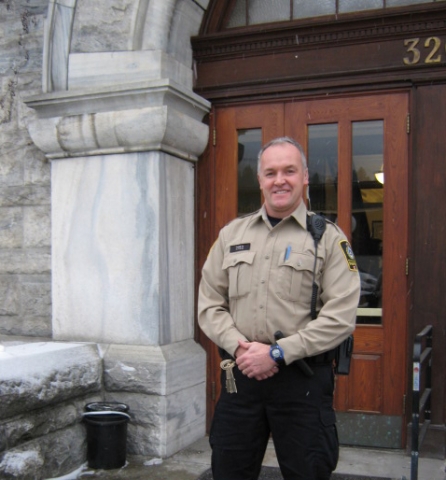 Nelson Courthouse is one of the recipients of the 12 graduates from the Sheriff Recruit Training (SRT) at the Justice Institute of BC in New Westminster.
Attorney General and Minister of Justice Suzanne Anton made the announcement this week.
"These new deputy sheriffs have exhibited a significant amount of commitment and dedication to their training, and I'd like to congratulate them as they begin what I'm sure will be exciting and rewarding careers in B.C. Sheriff Services," Anton said.
"Not only is recruiting new sheriffs an important part of improving the safety and security of our courtrooms, it's also an important part of our justice reform initiative, as it improves the efficiency and effectiveness of court operations."
Nelsonite Dave Zarikoff, finishing his first shirt Monday, is the new recruit for the Nelson Sheriff Services.
Zarikoff was one of the dozen in the class that recently completed the 16 weeks of Sheriff Recruit Training (SRT) giving them the necessary skills to perform public safety and statutory roles at courthouses across the province.
With the addition of these 12, there are approximately 500 full-time equivalent sheriffs working in 45 courthouses and 44 circuit courts in communities throughout the province.
The graduating sheriffs come from diverse backgrounds, including some who worked for B.C. Corrections, the Canadian military, the British Army, the United States Consulate and the Vancouver Traffic Authority.
Sheriff training continues to evolve to meet the diverse needs of B.C.'s justice system. Beginning in August 2013, the program has included:
Extended training for a total of 16 continuous weeks, the longest duration of SRT training in B.C.'s history.
More simulation time of various situations sheriffs might encounter in courthouses added to the curriculum to allow more hands-on training and better prepare recruits for training in the field.
Additional legal studies training covering the roles and responsibilities of a special provincial constable.
Exercises in new approaches to crisis intervention, de-escalation and conductive energy weapon training and certification.
"JIBC is proud of our latest cohort of sheriff recruit trainees for completing their program," said Chief Sheriff Paul Corrado.
"They are now well prepared for the vital role they will play in keeping B.C.'s courts safe and secure. Over the last 35 years, JIBC has trained well over 1,000 sheriffs, and in that time, their training has evolved as their roles become more complex.
"JIBC is proud to be entrusted to fulfill the continuing labour demand for sheriffs, and the ongoing success of the program depends on close and productive relationships between the Ministry of Justice's Court Services Branch, the sheriffs who are our field instructors and JIBC staff."
Along with Nelson, graduates are being deployed throughout the province, with six going to the Lower Mainland, one to Williams Lake, one to Cranbrook, two to Prince George and one to Victoria.
Their main responsibilities include:
Providing prisoner escorts between courthouses, correctional centres and police lock-up facilities
Courthouse and courtroom security, including the management of courthouse lock-up facilities
Jury management
Providing protection services to government, as well as threat assessment to ministries