Selkirk College Music Students Ready to Rock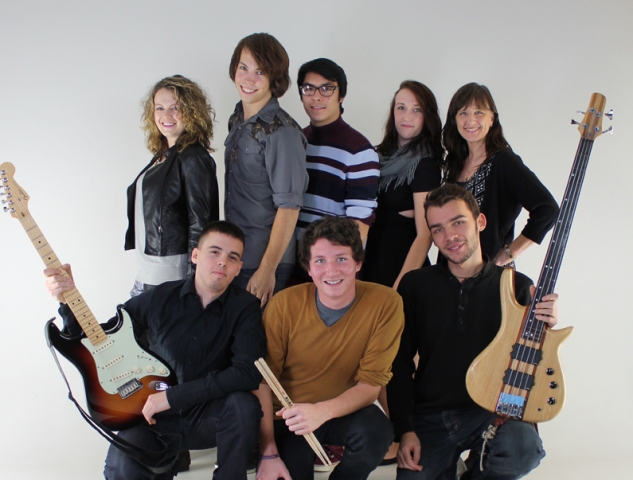 Selkirk College Contemporary Music & Technology Program students are tuning up for a celebration of the fall semester with a trip through the sounds of six decades.
Three of Selkirk's student bands will be playing at Spiritbar in Nelson on December 12 for a night of classic rock, R&B and hard rock. From Fleetwood Mac to The Foo Fighters, the students are amped to bring their skills to the community.
"This is an impressive class with impressive talents," says music program vocal instructor Laura Landsberg. "They've been working so hard this semester and it's exciting to be able to let loose for everybody to enjoy."
The night opens with Beat'n'Speak, the R&B band under the direction of Landsberg. Elijah Larson (vocals, guitar), Charlie Pears-Smith (vocals), Thea Loberg (vocals), James Villa (keys), Leonard Pallerstein (guitar), Elias Nelson (bass) and Reg Eddy (drums) will be playing classic R&B/Motown tunes and some contemporary choices sure to pack the dance floor.
Jam Down will take the stage next with classic rock covers from groups like Heart, Fleetwood Mac and Ray Charles. Under the direction of Selkirk instructor Melody Diachun (vocals), the band members include Pears-Smith (vocals), Hillary Whelan (vocals), Andrew Matthews (vocals, guitar), Dylan Ferris (guitar), Johnny Ciardullo (bass) and Troy Jeffrey (drums).
"The best part about the night is that we get to play sweet older tunes and have fun doing it with an awesome group of people," says Ciardullo.
Last up will be The Guild of the Minstrels, the hard rock group under the direction of Selkirk instructor Darren Mahe (guitar, vocals). The trio of Adrian Emond (guitar, vocals), Andrew Parkhouse (vocals) and Brennan Buglioni (drums) will launch into tunes from The Foo Fighters, Rage Against the Machine, Muse and more.
"Putting together these sets is hard work," says Landsberg. "Ultimately it's about learning, but the goal for this evening will be to put on the best show possible."
The Selkirk College Contemporary Music & Technology Program is located at Nelson's Tenth Street Campus. The two-year diploma program has been preparing students for the commercial entertainment industry for more than 25 years.
The cover for the December 12show is $5 and free for Selkirk College students who arrive before 9:30 pm. Ping pong warms up the night at 7 pm and the bands start to take the stage at 9 pm. The event is a fundraiser with all proceeds from the show going towards equipment for music students.