North Shore Firefighters earn National Fire Protection standard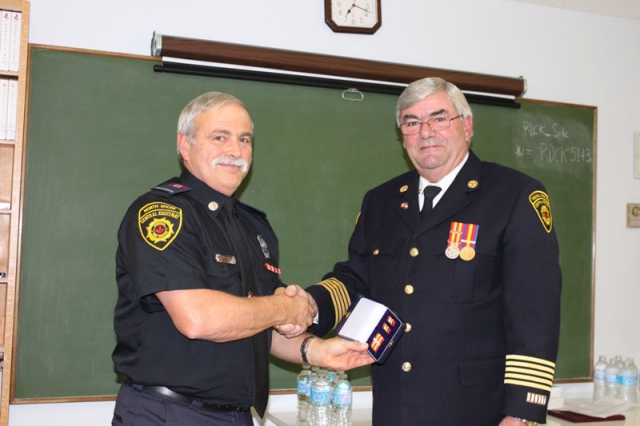 By Randi Jensen, The Nelson Daily
North Shore Fire Department recently awarded certification to 13 of its members.
In attendance were representatives Regional District of Central Kootenay Area F Director Ron Mickel  RDCK CAO Brian Carruthers, Selkirk College Instructional Dean Kate Pelletier and Anni Holtby along with Regional Fire Chief Terry Swan. 
Fire Chief Swan explained the Regional District of Central Kootenay mandate that all Fire Fighters must attain a minimum standard of training.
In response, Selkirk College in partnership with the Justice Institute of BC developed the Fire Fighter Training, Level 1 Certifictate Program to meet the National Fire Protection Assoc. (NFPA) Level 1001 Standard, which is recognized throughout North America.
 In October 2011 the North Shore Fire Department began training its members and over the ensuing months they worked through the course material, studying and applying practical application of the material.
Going back to school and having to write exams wasn't exactly what they'd signed up for but they got through it. Training Officer, Chuck Johnson commends his fellow members for their hard work and diligence to complete the course. 
"These men and women are volunteers," Johnson  said.
"Not only are they available on call seven days a week, 24 hours a day most work fulltime. Going the extra mile to meet training requirements is huge."
Pelletier recognized the accomplishment the Department has achieved in meeting the required standards while Mickel thanked the group on behalf of the community, pointing out the crucial service they perform and how very unrecognized it is.
RDCK CAO Carruthers pointed out how impressed he always is at the professionalism that is always present at the Fire Departments he visits throughout the district.
Captain Adam Prisciak gave accolades to his fellow firefighters about their efforts and intensity at their practices; "practicing their skills on the ladders to ventilation to fire hose handing; and everything in between."
Each Firefighter was presented with a certificate and at the end of the evening Fred Schneider and Jim Robinson were honored with the Governor General's 'Exemplary Service Award.'
Members that completed the Selkirk College FF Level 1 course included:
Fred Schneider, Chief
Jay Marshall, Asstistant Chief                                                                                  
Chris Lehnert, Firefighter                                                                              
Virginia Ritchie, Firefighter                                                                                        
Adam Prisciak, Captain                                                                                             
Selina Drake, Firefighter
Zackery Grant-Reid, Firefighter                                                                    
Dave Jennings, Firefighter                                                                                         
Ryan Ricalton, Firefighter                                                                             
Stewart Pedersen, Firefighter                                                                         
Ken Flesaker,
Lieutenant                                                                                           
Chris Richards, Lieutenant    
Chuck Johnson, Training officer