Thousand-plus remember at Nelson Remembrance Day Ceremony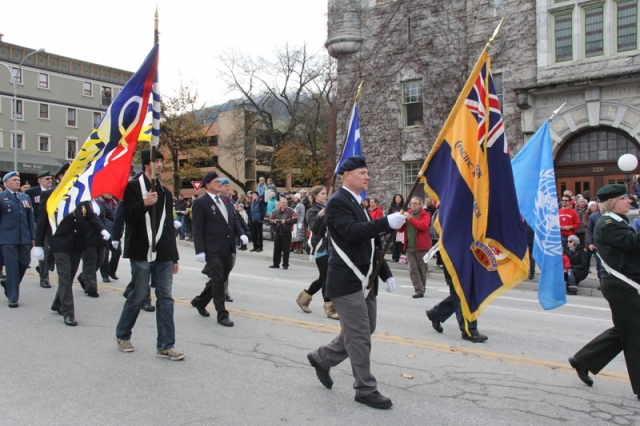 Nelsonites have traditionally supported Remembrance Day Ceremonies and 2013 was no different as a crowd of more than 1,000 jammed the Cenotaph in front of City Hall to show their support for those who fought for peace.
With the thermometer hovering around plus-5 Celsius, War Veteran Doug Wood led the ceremony that included Tim Bullen playing the Last Post, two-minutes of silence, a flyover by Nelson Pilots Association and speakers praising veterans of yesteryear.
"It makes me think what this country would be like if we had lost either or the two great wars," asked 93-year-old war veteran Lionel Binnett.
"I think we're so happy and content with what we got we almost take it fore granted," Binnett added.
Mayor John Dooley thanked everyone in the crowd for paying their respect to people like Lionel Binnett and his colleagues who fought to make a difference in the lives of Nelsonites.
"I want to thank each and every one of our veterans .  .  . all of our service people, our fire and police, and all of the people who stand up for us on the daily basis," Dooley told the crowd.
"I want to thank you for continuing to come to the front of our city hall in great numbers in our community . . . thank you from the bottom of my heart."
Nelson/Creston MLA Michelle Mungall echoed Dooley's comments in her speech.
"As the Mayor (Dooley) pointed out, veterans from Afghanistan will be coming home and they stood and fought for freedom there just as previous generations stood and fought that we could have our freedom here," Mungall said.
Nelson City Band was on hand also to lead the crowd in O'Canada and God Save the Queen.
A highlight of the ceremony was Binnett reciting the war poem, In Flanders Field.