Nelson's Mitch Popadynetz helps UBC to Canada West title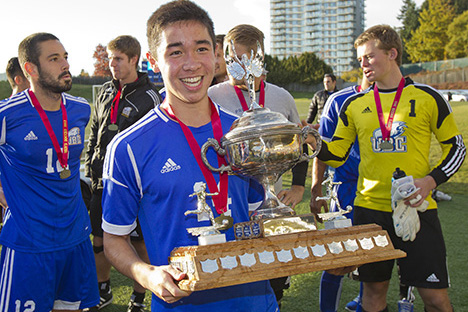 The soccer trail for Mitch Popadynetz continues to be lined with gold after the Nelson Youth Soccer star helped power the University of BC Thunderbirds to another Canada West men's soccer title in Vancouver.
The T-Birds rocked Saskatchewan Huskies 6-1 in the Canada Men's West Championship.
Popadynetz, in his first year with the T-Birds, scored once in the game.
Popadynetz, fresh onto the field as a substitute, found the far corner to score in the 68th minute, securing the victory for UBC.
UBC was led by Niall Cousens scored four times in the first half.
"It was fantastic to step up in a game that matters," said Cousens, the tall figure for the Thunderbirds said on the university website. "The whole team was great in its performance as we came out flying."
UBC advanced to the final by stopping Trinity Western Spartans 2-0 at T-Bird Stadium.
The UBC team will fly to Fredericton, N.B. Monday to defend their Canadian university championship, which they won last year.
Also, as a reminder, UBC won all five league awards handed out on Wednesday:
Reynold Stewart (MVP); Einarsson (Rookie of the Year); Clerc (Student-Athlete Community); head coach Mike Mosher (coach of the Year) and UBC (fair Play award).
Popadynetz, tuned up for his inaugural season of university men's soccer by helping Team BC win a silver medal at the 2013 Canada Games in Sherbrooke, Que.
Popadynetz scored the lone goal for Team BC in a 1-0 victory over Ontario in semi final medal round action.