Jessie Radonich-Scanlan — Passionate About Nursing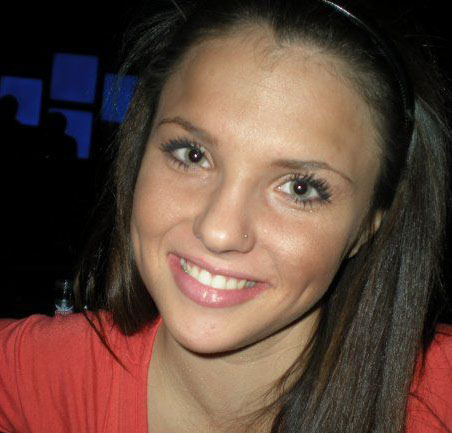 By Suzy Hamilton, The Nelson Daily
Her enthusiasm for life and nursing was contagious, and everyone who knew her was touched by her dimpled smile.
Now the fourth year nursing students — joined by her family and the Langara School of Nursing faculty —  have started a fund in honour of Jessie Radonich-Scanlan.
Jessie died suddenly of a brain aneurysm on October 15, 2013 in Vancouver. She was 23 years old and had one more term before graduating with a Bachelors of Science in nursing from Langara College.
'Passionate About Nursing' will award a $500 bursary in Jessie's name annually for a nursing student to attend professional conferences.
"Jessie was such a fun and vibrant person, " said classmate Megan Beaton.
"But she was also incredibly smart, and dedicated to nursing. I think it would be nice for her to be remembered this way, through a scholarship that will help other nursing students."
Raised in Nelson, Jessie loved the outdoors, whether it was on the slopes or floating down the river. But her real passion became nursing.
Daniel, Jessie's older brother, died of cancer when she was just 17. Daniel's death inspired Jessie to go into the profession, so she could care for others.  
According to nursing instructor Deb Filleul in the Langara Voice, Scanlan was "totally involved in the program and wanted to help others."
"She was one of the nursing tutors for biology," she said. "Not only the nursing faculty has been contributing to the fund, but students as well. She was a really popular young woman."
Donations to the bursary are coming in daily, but Langara's manager of alumni and donors, Pam Robertson, said the fund is still short of the $12,500 goal. "We're about three quarters of the way there," she said.
 "We will make this happen. The response has been remarkable."
"I've never seen anything like it on campus before," she said of the money that poured in from the students at a memorial for Jessie. "It's at least something they can do. Hers was a life cut too short and her legacy will live on."
Robertson said the college will match any funds donated over $12,500, which would also increase the bursary.
Tax-deductible donations to Passionate About Nursing can be made to Langara College, College Advancement, 100 W. 49th Avenue, Vancouver, BC  V5Y 2Z6 or by calling Robertson at 604-323-5948.
A celebration of Jessie's life filled the Civic Theatre in Nelson on November 23.