How to build and install a bike rack: city publishes bike parking guidelines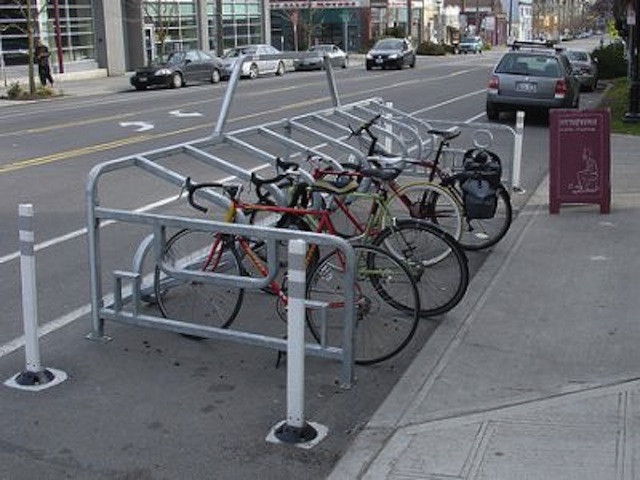 Many of the bike racks in Nelson were apparently designed and installed by people who never ride bikes.
The city's Bike Parking Design Guidelines contain photos of the worst examples in Nelson, including those at city hall itself and the one that was just last week removed from the public library, which is of a type known among cyclists as "the wheel-bender."
Helping businesses do a good job
"If I was a business owner and I was going to put a bike rack outside my business and I didn't know anything about bikes or locking them up, I would appreciate a document like this so I can make the best use of my investment," says Councillor Paula Kiss, adding that it is not a regulation or bylaw. "It's just a guidance document."
Location and size
The guidelines distinguish between long- and short-term bicycle parking. It states that short-term parking should be:
Located in a convenient, well-lit, and highly visible location that is accessible by 

visitors; 

Separated from car parking by a physical barrier or sufficient space; 
Located so as not to interfere with pedestrians; and 
Located along a principal line of approach to a building, 

not more than 

15 

metres 

from a building entrance.
Supported, anchored, rust resistant, and accessible
The guidelines describe, with photos, examples, and rationale, how bike parking should:
Support the bicycle in at least two places, to prevent it from falling over;

Allow locking of the frame and one or both wheels with a U-style lock; 
Be securely anchored to the ground, floor, or building; 
Be resistant to cutting, rusting, bending, and deformation; and
Provide easily accessible bicycle parking spaces that do not require moving another bicycle for access or manoeuvring.  
It's in the Official Community Plan
"One of the recommendations that came out of our Active Transportation Plan," says city planner Daphne Powell, "was to improve active transportation options throughout the city for bikes and pedestrians."
'Active transportation' means walking and bicycling, and the Active Transportation Plan forms part of the city's Official Community Plan. Powell says the guidelines are also consistent with the city's energy plan.
City wants to reduce auto traffic
Councillor Kiss says city council hopes to reduce auto use in the city, "not just because it is better for the health and welfare of our community, but because maintaining roads and providing parking for people is hugely expensive. People think that magically by buying gas that covers the cost of paving, but it doesn't.  And it does not cover the cost of road clearing and the cost of congestion, and it doesn't even cover the time we spend talking about parking."
Entitled to vehicle parking?
"The more options we have," said Kiss, "and the more we shift from that assumption that the car is the only respectable way to get around, the less people will talk about parking, because there will not be such an entitlement around it. Now we feel entitled to parking. We think it needs to be there for us but in fact it is a service for cars and not something that needs to just be there by default."
Nelson leads (among small B.C. cities)
The bicycle parking guidelines state that according to Statistics Canada, 3.8 percent of Nelson residents commute to work by bicycle, as compared to Victoria at 10.6%, Vancouver at 4.4%, Kelowna and Squamish at 3.5% each, and Castlegar and Salmon Arm at 1.1% each.
Creating a biking culture
Kiss thinks better bike parking will promote more biking.
"The more bikes you see downtown the more you think about riding your bike," she says. "I think it would create more of a biking culture, and I would like to see that."
Some cities are experimenting with "bike corrals"—large bike parking areas that take over a vehicle parking space, like those in the photo above. Edmonton installed five early this year and considers the venture a big success.
Related stories in The Nelson Daily:
New zoning rules encourage mixed use and more density in Nelson (October 10, 2013)
Changes in works for traffic flow in key Nelson intersections (September 23, 2013)
More than one million owed to city for parking fines (July 30, 2013)