Books down a bit, digital up a lot: Nelson library creates a new identity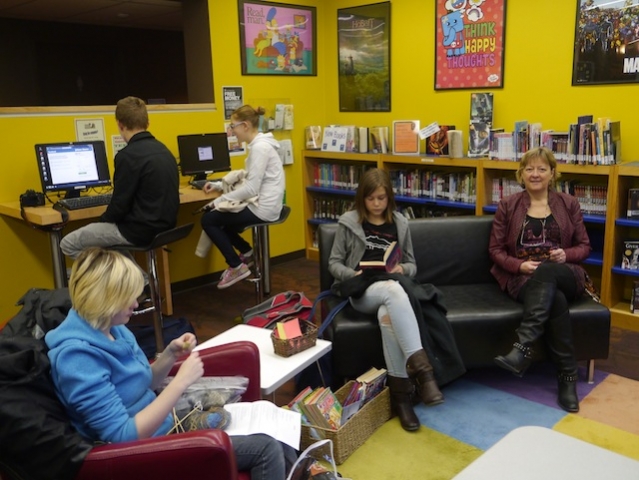 In urban design and community-building circles, there is the concept of the third place–a social environment that is separate from our usual surroundings of home and work. A third place is welcoming, comfortable, and accessible to everyone, a place to put aside our concerns and enjoy company and conversation. 
Libraries are becoming third places, says June Stockdale, Nelson's chief librarian. The past two decades have seen the transition of libraries from book warehouses for silent study to hubs of interactive learning for all ages. 
Visit the Nelson library any afternoon and you'll see a curious cross-section of all ages and facets of the community, reading newspapers and studying screens, researching and discussing, studying everything from art books to automotive manuals, all with a relaxed focus they don't find at home or at work. There are small children with young parents, teenagers working on assignments or huddled with their math tutors, and seniors figuring out how to use their new tablets and e-readers.
An award for chocolate and coffee
In May, the B.C. Library Association (BCLA) gave Nelson's library a merit award for marketing and advocacy. The award recognized the Taste of Nelson initiative in the fall of 2012 that partnered the library with Nelson's Chocofellar to create bars with literary titles such as Pride and Pecans and Call of the Wild Hazelnut, and with Oso Negro to produce a library blend of coffee called Read All Night! The initiative, created by library employee Anne Degrace, also produced a series of bookmarks by local artists.
Books down a bit, digital up a lot
Skip ahead to the Nelson City Council meeting on November 18 of this year, where Stockdale and library board chair Dianne Harke presented a year-end report to council members.
They told council that visits to the library and numbers of books borrowed were slightly down from 2012, but that many other things had significantly increased, including e-books and magazines, data base usage, website hits, reference questions, and use of public computers.
In all of those areas including circulation per capita, Harke and Stockdale said, Nelson is ahead of the average of libraries in twelve B.C. cities of similar population.
The city is the main funder
They presented a pie chart showing estimated income for 2013 of $893,000. The City of Nelson contributed 65% of that total, the Regional District of Central Kootenay (RDCK) 16%, the province 9%, with the remaining 10% from grants and donations.
Stockdale told The Nelson Daily that the city adds a cost of living increase to library operations every year and that funding from the province has been flat for a decade. Library staff is unionized and currently in negotiations with the city for a new contract.
The library's income stream from the RDCK is relatively new. Several years ago residents of Areas F (the Slocan Valley) and H (the North Shore) voted to pay for library costs as part of their property taxes. That means they can get a free library card, like Nelson residents. Area F has 1429 library members, up 162% since 2010, and Area H 1201, up 107%.  There are 8708 library cards in the city itself.
Teaching seniors how to learn about technology
One recent part-time addition to the library staff is a young woman on a federal government grant who takes appointments to help people with their technological devices. Her time is always completely booked.
"This tends to be seniors," says Stockdale. "They come in and they want to know how to email their grandchild, or they got a new e-reader for Christmas and they want to know how to use it."
She says the point of the job is to help people learn how to learn.
The changing world of e-readers and tablets, and the as-yet-unknown new technologies that will be upon us by this time next year, have created a steep learning curve for other library staff as well, making professional development a constant priority.
Demand for non-fiction books is down
"We reduced our non-fiction section by about 20% to make more room for some quiet study rooms people have been asking for." Stockdale says some people still do want quiet, for their own study or for small work groups or tutoring. 
But she says there is still a lot of interest in some types of non-fiction, "the how-to stuff, and art books, and biographies."
But anything technology related, like automotive repair, for example, is changing so rapidly that the library has gone to online sources and databases. "We have subscribed to licences instead, and that way we do not have to rely on replacing the books all the time."
Reference questions in a world of infinite information
Staff members in the new world of libraries–gone-digital are seeing an increase in the number of reference questions. Finding information is a lot more complicated than it used to be. With the sum total of all recorded human knowledge at our fingertips, existing in myriad digital platforms and sources, and with dozens of ways of finding it, how do we know we're on the right track? The answer: ask a librarian.
Although the librarians may not immediately be able to answer the research question, they will know how to go about finding it.
Community-led
The library has recently bought a community events tent and taken it to places like Marketfest. They want to go to food banks and women's shelters to help people with technology. At a community table within the library, community groups can spend time meeting library patrons. And they will be setting up a "technology petting zoo" where people can come and try out various devices.
"I like the idea of a community-led library," Stockdale says. "We have just broken into that territory and we will be doing more of it, and that is exciting."
June Stockdale is the outgoing president of the BCLA, and her role there has reflected her fascination with "helping to guide and lead change in our communities." She likes anticipating what the needs are going to be in the future for all libraries, not just Nelson.
Asked by The Nelson Daily what impression she hopes she and Dianne Harke left with Nelson City Council at the November 18 meeting, Stockdale replied, "We are alive and kicking. We are engaging with our community. We are collaborating, we are partnering, and we are innovating. Whatever we can do for our community, that is where we want to be—we really care about that. Our hearts are there."
Bill Metcalfe is a Nelson freelance writer and broadcaster who covers Nelson city hall for The Nelson Daily.