Austrian Climate Change team arrives in Nelson — 'Pulling on the same end of the Rope'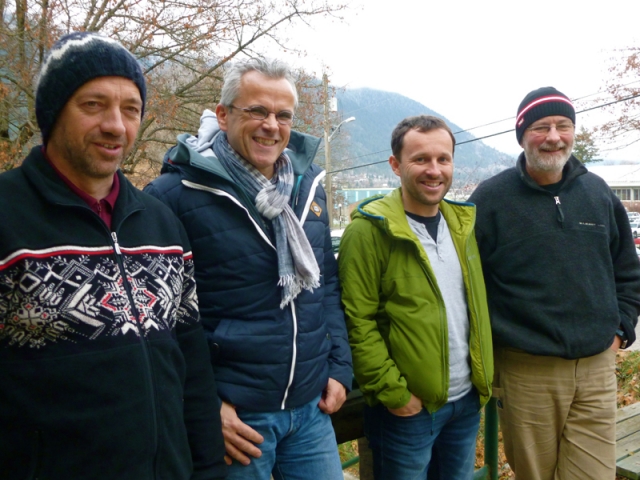 By Suzy Hamilton, The Nelson Daily
Predictions for the climatic changes coming to the Kootenay region are grim, but an emerging partnership with an Austrian scientific research centre may help mountain residents prepare and adapt to the future.
Three scientists from alp-S, a private consulting, research and development organization in Innsbruck, Austria, arrived in Nelson for a week to lend their expertise in adapting to climate change.
Their specialty: the impacts of climate change in the mountainous regions of the world.
"The main message we can take from mountains is that global climate change is all over the world. The people in these mountains are all threatened somehow by the impact of the climate change process," said Dr. Eric Veulliet, CEO of alp-S.
"Fifty percent of the people who live in mountains world wide live under very poor conditions." 
He added: "For us it's one of the grand challenges of our time. We have to work very closely together to have a chance to be successful." 
Veulliet is joined by Hans Stoetter and Andreas Koler who are here to participate in, among other things, a risk assessment of the possible changes in the Kootenays and the solutions to adapt to them.
With a staff of 100, the ten year old research centre works hand in hand with the University of Innsbruck, the Austrian Academy of Sciences, industry and interest groups to identify and come up with climate change solutions.
In addition to their work in the European Alps, they have projects in Iceland, Nepal, Indonesia, and Latin America.
First they will tackle Nelson's storm sewer problem by doing a risk assessment of the infrastructure and capabilities. https://thenelsondaily.com/news/nelson-receives-climate-change-research-grant-european-institute-26544#.UpT3wGRDt9k
Intense rains in the summer of 2012 caused close to $500,000 damage for the city in broken pipes, backed up toilets, and a sewer collapse at the end of Mill street that severely eroded a gully, according to city manager Kevin Cormack. 
Although there have been no fatalities from these rains in Nelson, "Austria has lost life in these storm events," said Cormack.
Cormack said damage can be minimized with modeling, and mapping community resiliency and vulnerability.
"It's great having the opportunity to work with folks experienced in these areas. And it's a bonus when it comes with funding."
Details have not been finalized, but alp-S will be contributing to the $20,000+ assessment.
They do so to exchange information and share knowledge with other mountainous regions, enlarge their base of NGO's, companies and scientists, and find solutions to mitigate and adapt to climate change, said Veulliet.
Veulliet and Stoetter said that Austria may be ahead of the Kootenays in mitigation and credited the Green Party in Austria for changing people's thinking and actions.
'We are on the good way to change things in Austria," said Veulliet.
But they  praised the adaptation measures identified through CBT's Communities Adapting to Climate Change Initiative (CACCI).
"This is very impressive what's going on in the Columbia Basin," Stoetter said.
Columbia Basin Trust has also contributed $10,000 to the risk assessment.
"alp-S is a very unique organization," said CBT's water and environment manager Tim Hicks. "My hope is that we can learn from each other's efforts to support communities in adapting to our changing climate. 
Hicks foresees water problems — both too much and not enough — as future problems, as well as wildfires in the urban interface and rain on snow events.
For Nelson scientist, Mel Reasoner, who initiated the project with alp-S through his friendship with Stoetter, this is an opportunity for scientists to communicate with the public.
"Scientists have traditionally been terrible at this. Now we need to have everyone pulling on the same end of the rope."