South Okanagan halts Bomber winning streak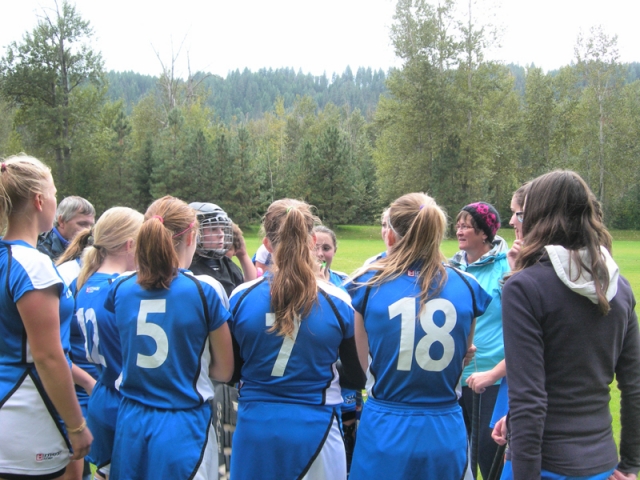 The L.V. Rogers Bombers suffered its first loss of the 2013 High School Fieldhockey season as South Okanagan Hornets of Oliver scored a 3-1 victory in the West Kootenay Tourney this past weekend at Pass Creek pitch in Castlegar.
Naomi Perkins scored the lone goal for the Bombers in the five-team tourney.
"This was a very good side," said coach Val Gibson.
The Bombers opened the tourney Friday by drawing 2-2 against host Stanley Humphries Rockers of Castlgar.
Sarah Wade scored twice to lead the Bomber offence while Allie Zondervan added a pair of assists.
The contest marked the first time Bomber keeper Tara Yowek has allowed two goals in a game.
Saturday the Bombers were scheduled to play the J. Lloyd Crowe Hawks.
However, poor weather made the pitch unplayable forcing coaches to cancell the game.
The teams will meet this week in West Kootenay High School Fieldhockey League play on Thursday in Castlegar, at 4:30 p.m. at Pass Creek.
The West Kootenay zones are set for October 23 at Pass Creek.
The winner advanced to the B.C. High School AA Girl's Fieldhockey Championships in West Vancouver.
Meanwhile the LVR Junior Bombers scored a pair of wins over Rossland and South Okanagan.
Emma Borhi scored a hat-trick to pace LVR to a 5-1 win over Rossland.
Emma Wheeldon added two goals for LVR.
Jena Wheeldon and Andrea Stinson are the last Bombers to register three goals in a game.
Saturday, the Bombers continued to rock on offence, shutting out South Okanagan 5-0.
Borhi scored twice while Naomi Perkins, Chiara Chirico and Ava Strautman added singles.