Leafs survive Murdoch Division test against high-flying Hawks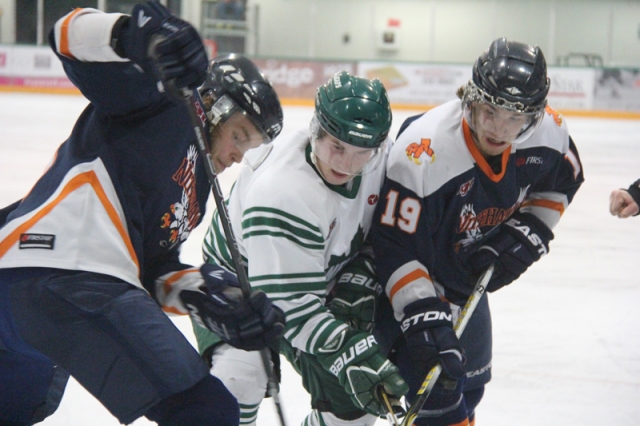 The Nelson Leafs survived the first major test of the season, scoring twice late in the second period en route to a 5-2 Kootenay International Junior Hockey League victory over the Beaver Valley Nitehawks Friday night at the NDCC Arena.
The game is the first of three meetings against Neil Murdoch Division rivals — Beaver Valley and Castlegar.
Aaron Dunlap and Alex Wilkerson scored 94 seconds apart to snap a 2-2 tie to power Nelson to the win.
The Leafs led 2-0 after the opening frame on goals by Linden Horswill and Dunlap.
Michael Bell and Dallas Calvin scored power play goals for the Hawks to tie the game up midway through the second period.
Travis Wellman, with his league leading 14th goal of the season, killed any chance of the Beaver Valley comeback by scoring into the empty net.
Tyler Moffat was solid between the pipes for the Leafs, stopping 20 shots.
Josh Round to the loss in goal for Beaver Valley.
Nelson remains in top spot in the Murdoch Division with a 7-0-1 record.
The Leafs continue its swing through the Murdoch Division with a home-and-home series against the defending KIJHL champs from Castlegar.
The teams hook up Saturday in Castlegar before completing the series Sunday in Nelson at 2:30 p.m. in the NDCC Arena.
BLUELINES: The Leaf players saluted Breast Cancer Awareness month by wearing pink laces and using pink tape on their sticks. . . . Hockey fans were surprised to see Nelson native Linden Horswill back in the Green and White. The Nelson Minor Hockey grad had been suspended after leaving the Trail Smokies of the BCHL. However, the Trail management surprisingly lifted the suspension. . . . . The Friday, October 18th game against Beaver Valley is Bras at the Barn Night. Fans are asked to bring their bras to the game to raise awareness for the Canadian Breast Cancer Foundation. Check out the Leaf website at www.nelsonleafs.ca for more information.