Better than new and improved — Nelson Hydro completes hydro line replacement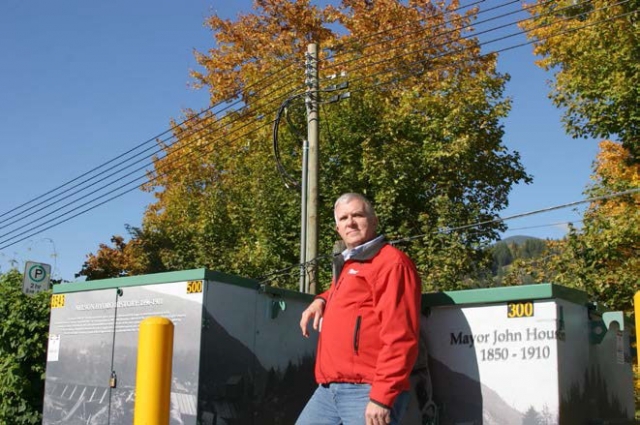 There have been traffic delays in the downtown core thanks to line trucks blocking the alleyways.
However, those delays will soon be a thing of the past as Nelson Hydro has completed the first two blocks of downtown hydro line replacement — upgrades that will bring improved power supply reliability, less pedestrian/traffic congestion and improved lighting.
Crews have recently replaced the first full block of overhead hydro distribution in the lane stretching from Highway 3A/Vernon Street to Stanley Street, north of Baker Street, behind the Best Western Hotel.
"We're really pleased with how the latest stage of the downtown voltage conversion project has progressed, and we think the people of Nelson will be too," says Nelson Hydro Operations  Manager Mike Amos.
"There's a lot more room for pedestrian and vehicle traffic, a lot less clutter along both sides of the lane, and overhead, and terrific lighting at night."
Amos explains that over the next two-to-three months, all of the aging wooden hydro poles in the lanes to the north and south of Baker will have been replaced with new hydro poles, new overhead secondary lines, and an increased voltage capacity of 25kV from 4 kV.
The final stage of the project is being undertaken by the West Kootenay company Martech Electric.
The new hydro distribution lines will be affixed well above the lanes, along with TV and phone lines. Underground electrical primary lines and eleven new transformer islands —adorned with historical imagery from Nelson's past —were installed in 2011.
Along with providing a dependable, state-of-the-art new distribution system for electricity, and reducing congestion, the conversion project also includes new LED lane lighting, making Baker Street's lanes and back alley business frontages even more pedestrian friendly and accessible during the evening.
After all of Nelson Hydro's work is completed, by the end of this year, the last stage of  the downtown conversion project will see Telus and Shaw move their overhead lines to the new poles, after which the remaining old hydro poles will be removed.
The downtown conversion project is one of Nelson Hydro's final steps in completing a city-wide electrical infrastructure upgrade, ensuring a reliable electric supply for Nelson for many years to come.
As part of Nelson Hydro's Long Term Hydro Transmission and Distribution Upgrade Plan, most of Nelson's transmission line upgrades have been completed, and voltage conversion projects on Front Street, downtown and Rosemont are nearly complete. Uphill and Gyro Park area upgrades will be finished over the next few years.