Saints on the road for Alberta triple-header weekend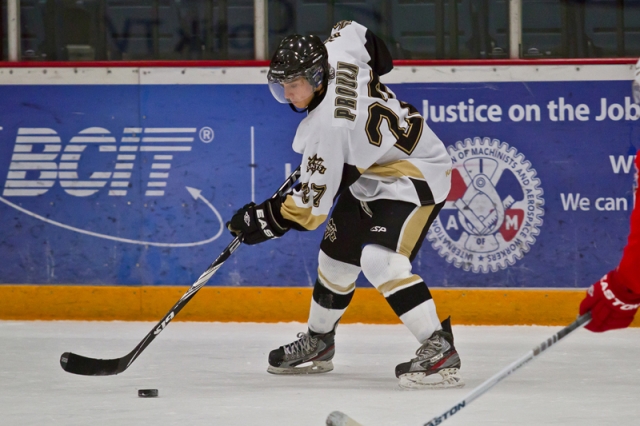 The Selkirk College Men's Hockey program will continue the march towards the beginning of the 2013/14 B.C. Intercollegiate Hockey League regular season this weekend when they make the trip to Edmonton for a trio of match-ups against Alberta Colleges Athletics Conference opponents.
The Saints will face off against Concordia University on Friday, the defending league champion Northern Alberta Institute of Technology on Saturday and Grant McEwan University on Sunday.
Last weekend they were victorious in a pair of home contests against Keyano College, who also compete in the ACAC.
"Last weekend we got our first taste of the calibre of play in Alberta against Keyano and I was very impressed with what I saw," says Saints head coach Jeff Dubois.
"Overall, the ACAC is a bigger and more physical than what we usually see in B.C., but our skill level and work ethic held up very well. We're looking to carry forward on the momentum from those two wins into the weekend and continue to improve in a number of areas with the regular season just two weeks away."
The Saints' first opponent – Concordia University – finished fourth in the 9-team league with a 12-12-4 record last season, while NAIT led the way at 23-2-3 and McEwan grabbed the sixth and final playoff spot with a 9-19-0 regular season.
"Each of these games should be demanding, both physically and mentally," says Dubois.
"We're going up against three teams that made their league playoffs last season, and we're playing three games in three days off of a long bus trip. But those are the types of challenges that you want to face and overcome early in the season. We should head back with a very good idea of how we're going to stack up against the top college hockey teams in Western Canada."
The trip will see Selkirk's returning players face off against a pair of ex-teammates, as 2012/13 captain Jordan Wood and two-year blueliner Justin Sotkowy now play for NAIT and McEwan respectively.
The Saints will then return home for their final preseason games against Trinity Western University on Friday, September 27th (7:30 p.m. in Nelson) and Saturday, September 28th (7:30 p.m in Castlegar).
General admission tickets for both games will be available at the door for $5.