Nelson Firefighters join forces with local business to help Hospital Foundation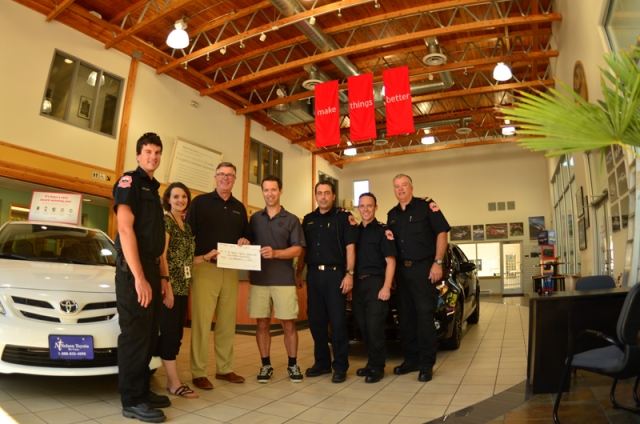 Nelson Firefighters do more than just save people and buildings.
The local firemen joined forces with Nelson Toyota and Kootenay Co-op Nelson Commons to raise a grand for the Kootenay Lake Hospital Foundation. 
The fire fighters volunteered their time to clean off the large lot where Nelson Toyota keeps their cars. 
In return, Nelson Toyorta owner/operator Cal Renwick donated $500 in their name. 
The fire fighters' union added similar funds they received from the Kootenay Co-op, for helping with their Nelson Commons effort, to bring the cheque total to $1000.
The hospital foundation is raising funds this year to buy a portable ultrasound for the emergency department.
On hand to help present the cheque to Byrna Idler of the KLHF at the Nelson Toyota operation on south of Nelson was Nelson Firefighters Martin Ouellette, Marc Thibault, Rick Maida, Scott Jeffery, and Gord Rae along with Cal Renwick of Nelson Toyota.