Nelson chapter of Terry Fox Run raises more than $9,000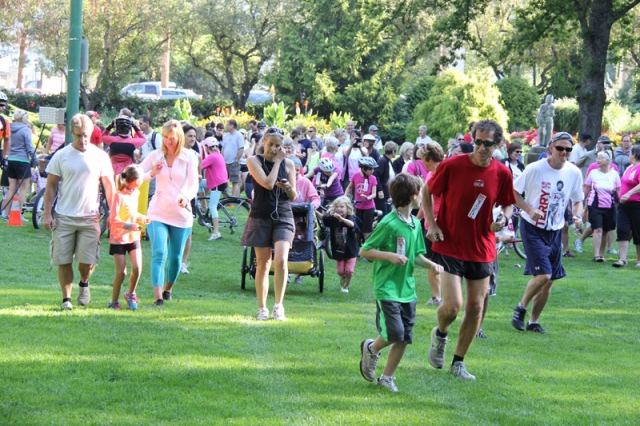 A couple hundred Terry Fox enthusiasts flocked to Lakeside Park in Nelson Sunday to participate in the 33rd annual run to honour one of Canada's heroes and raise money to find a cure for cancer.
Warm temperatures and sunny skies, and organizer Mike Hurley, greeted the Fox enthusiasts.
"Terry said even if you come with a dollar you're part of the Terry Fox Run," Hurley told the crowd before the warm-up for the one, three, five or 10 kilometre run.
Similar events were held across Canada as people remembered Terry Fox and his Marathon of Hope began and ended with his death 32 years ago.
The 21-year-old Fox was battling bone cancer when he began his Marathon of Hope in 1980.
Fox ran the equivalent of a marathon per day for 143 days, making his way across the Maritimes as well as Ontario and Quebec before he was forced to stop in Thunder Bay, Ont., after the deadly disease spread into his lungs.
Fox died months later at the age of 22 after raising more than $22 million for cancer research.
To date, the Terry Fox Foundation has raised more than $600 million.
Sunday, Nelsonites went over and above what they raised before, raising $9,151 for cancer research.
The total was a big increase over 2012 when the same 200-plus runners raised $6,500.
A runner, who ran the event back east, donated her $2,800 to the Nelson run, bolstered the total.