Leafs still perfect in September after taking Steam out of Summerland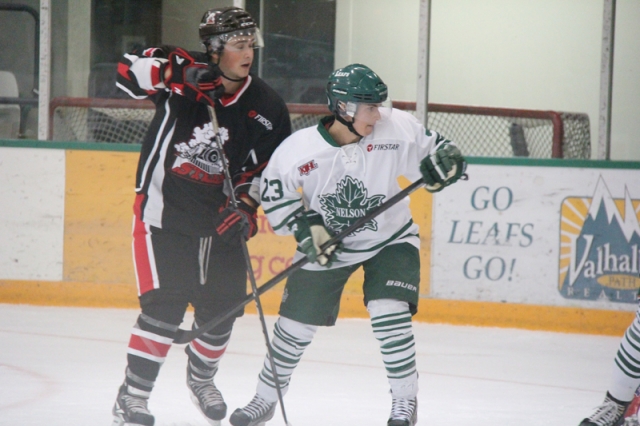 Nelson Leafs remained perfect in September by outlasting the Summerland Steam 5-3 in Kootenay International Junior Hockey League action Friday night at the NDCC Arena.
Travis Wellman scored twice as Nelson ran its record to 3-0 and a first-place tie with Grand Forks Border Bruins in Murdoch Division standings.
The Bruins lost 5-4 to Beaver Valley in Fruitvale.
After Paulsen Lautard opened the scoring for Summerland, Leaf rookie Nolan Percival scored his first goal in Junior on the power play late in the period.
Wellman gave Nelson the lead two minutes later with his first of two to help the Leafs grab a 2-1 first period lead.
The team exchanged goals in the second before Nelson outscored the Steam 2-1 in the third to secure the win.
Matt MacDonald and Aaron Dunlap, on the power play, also scored for Nelson.
Jordan Boultbee and Michael Winnitoy replied for Summerland.
Jamie Vlanich added three assists to move into a tie for third spot in the KIJHL scoring race.
Wellman leads the league in goals with six.
Nelson outshot the Steam 51-29 in the contest.
The Leafs are idle until the team travels to Spokane for a date with the winless Braves Friday.
Saturday Nelson hosts the new-and-improved Grand Forks Border Bruins at 7 p.m. in the NDCC Arena.
ICE CHIPS: It didn't take long for burley defenceman Patrick Croome to stake his claim on the ice for Nelson. Croome went toe-to-toe with Ryan Donaldson of the Steam in the second period. . . .Tyler Moffat registered his second win of the season in goal for Nelson. Moffat had 20-seconds of help from backup Adam Maida during the second period when a neck-guard issue forced the Leaf starter to the bench for repairs. . . .Nelson saw a former teammate between the pipes for Summerland as Darren Hogg made a return to the NDCC Arena. Hogg, 20, played 19 games for Nelson during the 2010-11 season, recording an 11-6 record. . . .Beaver Valley Nitehawks scored three unanswered goals in the third period to knock Grand Forks from the undefeated ranks. . . .Two power play goals by the Leafs means Subway in Nelson is donating $20 to KidSport. . . .The three regular season wins runs Nelson's record to 8-0, including exhibition games, in September.