Nelson Cyswog'n'Fun gets ready to roll out red carpet for 2013 race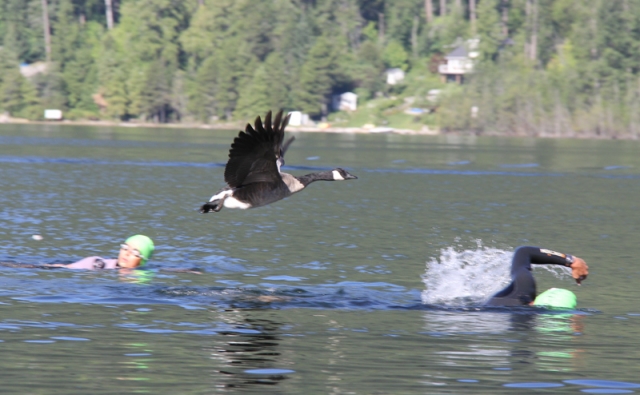 For 30 years the streets and highways in an around Nelson have been turned into one of the most picturesque triathlon courses in BC.
Sunday, beginning at Lakeside Rotary Park, the 31st edition of the Nelson Cyswog'n'Fun Triathlon kicks off with a bang at 8 a.m. sharp.
Hundreds of participants from throughout B.C., Alberta and the northern United States are expected to jump into the water to begin the Olympic distance race which started when Nelson sports enthusiasts Jennifer Stanger and Sandy and Danny Babin came up with the idea during a holiday trip to Spokane.
Race organizers have instituted a bit of a change for the 2013 edition The Sprint Swim, or short course, now follows the Olympic Course. 
The start for the Sprint Swim is being staggered 10 minutes after the Olympic participants take to the water on the same course in front of the Lakeside Ball Diamonds.
In past years the Spring Swim was held on a different course in front of the Lakeside Beach.
The distances for both races remain the same — Olympic Course is 1.5 kilometre swim, 38 km bike and 10 km run.
The Sprint Course is 500 metre swim, 22 km ride and five km run.
After getting out of the water, participants trek to the transition area before jumping onto bikes for the second stage, which takes cyclists on the scenic North Shore course along Kootenay Lake.
Sprint riders travel to Six Mile road while Olympic racers turn at Kokanee Park.
The run is the final stage, taking competitors over the Big Orange Bridge and onto Johnstone Road.
Sprint runners turn on Vahalla Road just over the bridge.
Motorists travelling the Big Orange Bridge to events on the North Shore Sunday morning are advised to watch out for cyclists and runners competing in the 2013 Nelson Cyswog'n' Fun Triathlon.
For more course information go to: http://trinelson.com/