Mallard's Team of the Week — The Competition 2013 Mixed Slopitch Champs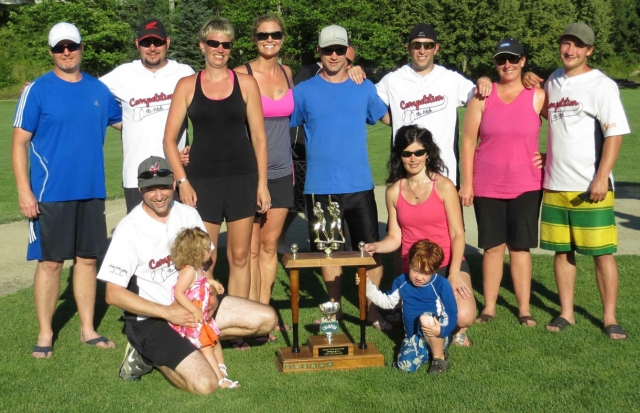 The Competition pulled off the rags to riches story to steal the spotlight by capturing the 2013 Nelson Mixed Slopitch Championship recently at the Lakeside Diamonds.
The Competition defeated defending champion Louie's 3-1 in the final.
The title is the third time in the league's 19 seasons that this team has won the A Championship. 
In 2001 as "Budweiser" and 1995 as "Arrow Building" The Competition pulled off the magical feat.
However, in 2013 The Competition had to pull off some magic after finishing the regular season with a 6-9 record, the lowest finish the team has ever experienced.
The victory this season also made The Competition, which never trailed once during the playoff tournament, the lowest seeded team (10th of 16) to win the championship in the 19 season history.
Mallard's Source for sports is adding to the Cinderella season by selecting The Competition as Team of the Week.
The winning squad includes, back row, L-R, Jamie Beauchamp, Dwayne Lau, Kristine Rye, Deena Beauchamp, Jason Trower, Jason Morrow, Christine Boyes and Daryl MacAskill.
Front, winning pitcher Erik Laughton, Ava Laughton, Amanda Laughton and Jack Boyes.
Missing from photo, Yvonne Vulcano, JP Ostrander and Fiona Lau.