Leafs road to the Cyclone Taylor Cup begins Friday the 13th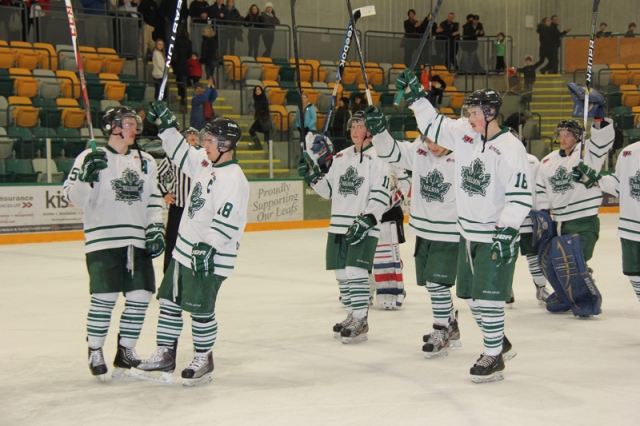 It's obvious from the blockbuster trade the Leafs made with Castlegar during the summer, the pressure is on Leaf coach Frank Maida to advance past the first round of the Kootenay International Junior Hockey League playoffs this season.
Maida and Company, eliminated last season by Beaver Valley in the first round of the Murdoch Semi Finals, get the party started Friday, September 13 when the Green and White face the defending KIJHL champs on banner raising night at the Castlegar Complex.
The KIJHL season opens the night before, Thursday, September 12, when Grand Forks hosts Spokane Braves in the Boundary City.
Nelson returns home the following night, Saturday, September 14, to kick off the Cyclone Taylor hosting campaign against the Creston Valley Thunder Cats.
In all Nelson plays 20 of the 26-home-game-season on Friday and Saturday night — 10 Friday and 10 Saturday.
Nelson hosts two Sunday afternoon matinees and three mid-week Wednesday contests.
The final game of the home season goes Tuesday, December 31 against Murdoch rival Beaver Valley Nitehawks in the traditional New Year's Eve game.
Nelson, which opens came prior to the Labour Day weekend, has five exhibition games scheduled, the first Tuesday, September 3 at home against Beaver Valley.
Nelson also hosts Creston, Friday, September 6 and Castlegar, Wednesday, September 11 before travelling to both the Sunflower City and Fruitvale.
The season concludes Saturday, February 22 with eight games, including Nelson at Beaver Valley.
The playoffs open the following weekend with the center of the universe coming together April 10-13 at the NDCC Arena when Nelson plays host to the 2014 Cyclone Taylor Cup.
No doubt the Leafs want to enter the tournament as the KIJHL champ than by gaining an automatic berth as the host club.