Stil time to enter the MS Bike Tour — West Kootenay Glacier Challenge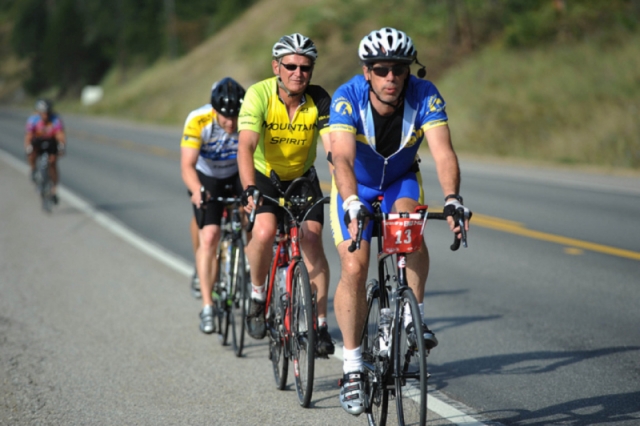 If you ever wanted to ride around Kokanee Glacier, then the MS Bike Tour — West Kootenay Glacier Challenge is just what the doctor ordered.
The event, set for August 17-18, starts riders in New Denver Saturday (August 17) for the first leg of the 222 kilometer ride.
Starting from Greer Park in New Denver, riders trek along Highway 6 before turning left an onto Nelson for Day one of the event.
After a nice evening barbecue at Lakeside Rotary Park, riders resume the second leg of the ride in Nelson and concluding later Sunday back in New Denver.
Of course the goal of the event is to raise money for MS research.
MS Bike is the largest cycling series event in North America. MS Bike is a fun cycling event that is suitable for various fitness levels, while bringing people together for an important cause ‒ to end MS. Over 10,000 cyclists participate in 27 tours across Canada between June and September.
Proceeds from MS Bike fund vital MS research and programs & services that enable those affected by MS. To participate, all you need is a bike and a passion to end MS.
Multiple sclerosis (MS), also known as disseminated sclerosis or encephalomyelitis disseminata, is an inflammatorydisease in which the insulating covers of nerve cells in the brain and spinal cord are damaged. This damage disrupts the ability of parts of the nervous system to communicate, resulting in a wide range of signs and symptoms, including physical, mental, and sometimes psychiatric problems
For more information on the MS Bike Tour — West Kootenay Glacier Challenge go to http://mssoc.convio.net/site/TR?fr_id=2041&pg=entry&s_locale=en_ca or contact Leona Dimock at 1-866-352-3997 or email
leona.dimock@mssociety.ca