Pay a fine, walk to school, build a new co-op store, and more: City Council July 22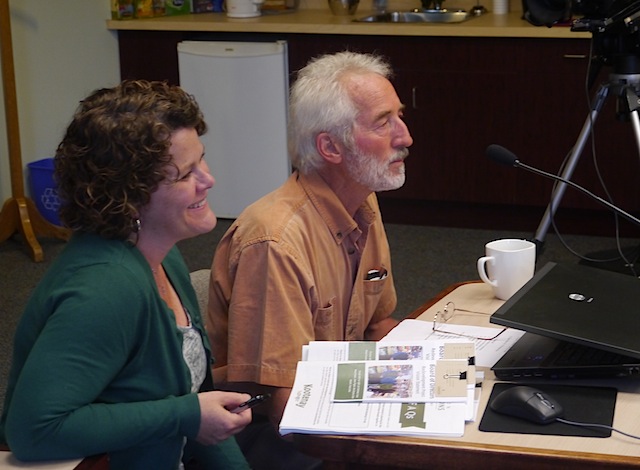 Every second meeting of Nelson City Council is a Committee of the Whole, at which public groups and city staff may present information about their activities, sometimes with a view to having Council decide something in the future. But no decisions are made at Committee of the Whole meetings. The following is a summary of presentations made on July 22, 2013. 
Nelson Commons
Russell Precious and DeirdrIe Lang of the Kootenay Co-op reported on the progress of Nelson Commons, the commercial-residential development the Co-op is planning for the old Extra Foods site. They said they would soon be applying to the city for a development permit.
They reported that they intend to start pre-selling residences in the building in September and if those go well they will proceed to tear down the existing building and develop the project depicted in the attached drawings.
Bylaw penalties
There are several city by-laws that cannot be enforced through the city's adjudication system because the city has not attached any penalties to them. The only recourse is to take them to provincial court, an expensive and time-consuming process. 
City staff wants penalties for infractions of the Business Licence Bylaw, the Waste Management and Wildlife Attractant Bylaw, the Property Maintenance Bylaw, the Parks Bylaw, and the City Premises Smoking Bylaw.  They brought to council a list of suggested penalties, attached to this article.
There was some disagreement about appropriate penalties. Council and staff will work further on it and bring the matter to a regular council meeting. 
Ideas Into Action Survey
Katie Tabor and Kate Nott of the Social Planning Action Network (SPAN) reported on their survey completed by 150 Nelson residents in which they learned that the most valued aspects of Nelson are nature, sense of community, people, and arts/heritage. The top social issues, according to their respondents, are housing affordability, unemployment, mental health and poverty. The survey report is attached.
iWalk
Louise Poole of the Interior Health Authority told Council about International Walk to School Week, October 7-14, 2013, in which no-drive zones will be set up to disallow students being dropped off in cars closer than three blocks from school. Council agreed that it will take part in activities planned for Nelson. 
Hall Street blogged
Local blogger Claus Schunke presented his views on the proposed  re-development of Hall Street.