Nelson's homelessness stats have not improved in the past year, says new report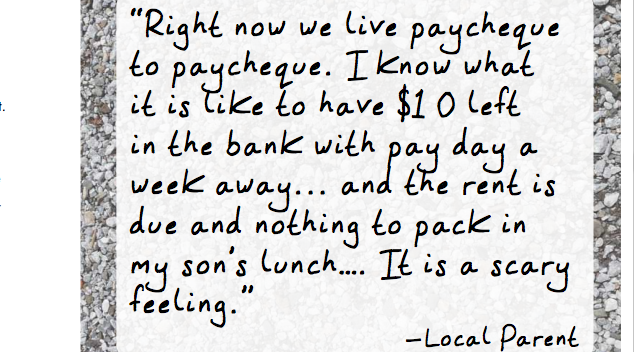 The Nelson Cares Society released its  5th Annual Report on Homelessness in June. 
"A look back through those years is bittersweet," states the report. "The statistics have not improved."
Those statistics are based on indicators that have been used in successive reports to show change over time. For example:
Number of emergency stays at the homeless shelter: 414 in 2011 and 396 in 2012, for a decrease of 4%.
Average number of days in a stay at the shelter: 9 days in 2011 and 12 days in 2012 for an increase of 26%
Meals served at Our Daily Bread: 11,700 in 2011 and 12,268 in 2012 for an increase of 5%
The report contains numbers on a dozen more such indicators in the areas of poverty, housing and income.
It's real, it's not just about transients, and services are stretched thin
The report addresses some common beliefs about homelessness in Nelson, including the belief that it does not exist here. "Homelessness is real, but hidden in our community. What we actually do see on our streets represents a very small scope of the issues."
A second common belief is that the homeless in Nelson are mostly travelers and transients. The report states that the majority of the homeless in Nelson are permanent residents.
A third commonly held belief (espoused by Mayor Dooley in a public meeting some years ago) is that homeless people are attracted to Nelson by our very good services. The report contests this idea by saying the services are actually stretched very thin, and that in fact they were originally a response to homelessness rather than the cause of it.
Social supports needed, not just a roof
The report proposes three interrelated priorities:
Housing that includes a support component
Improved mental health supports
Increased affordable housing units
Those recommendations are based on At Home Chez Soi, a four-year housing study done by the Mental Health Commission of Canada, which among other things advocates a model it calls Housing First. The Commission estimates that 25-50 percent of homeless people have a mental disorder and that providing a home can help people recover.
Social assistance and homelessness
The authors of the Nelson Cares report address the stereotype of the homeless person as being a single middle-aged man by reminding us that the homeless include single parents, teenagers, children, and families.
The report states that 74% of those helped by the emergency shelter and 57% of the people who used local good banks are on social assistance, and then contrasts that with current social assistance rates:
"The rate for a single person on provincial income assistance is $610/month, this is $375/month for shelter (rent and utilities) and $235 for all other costs of living. The average advertised 1 bedroom costs $760/month."
Provincial government needs to step up, says Macdonald
"It reinforces for me that the problem is not housing," says Councillor Donna Macdonald.  "The problem is poverty, and that we are one of two provinces or territories that does not have a poverty reduction strategy. Until we have one we are not going to get very far."
She said such a strategy would involve all levels of government, and referred to the Housing First initiative mentioned above. "There is research showing that if you spent two dollars now supporting (people with mental health issues) you save three dollars down the road because they are not going to keep ending up using emergency services and in the hospital."
Macdonald is the city's representative on the Nelson Housing Committee, established as an official committee of council in September of 2012 after having met unofficially for two years before that.
City has a committee and a strategy, but…
Asked what the committee has accomplished so far, Macdonald said,  "It is still an evolving committee and we are still learning about what options are out there and what the challenges are. There is a lot of sharing of information, updates on where people are at on various projects, and come September we will get a bit more focused on specific actions."
The Housing Committee is mandated by the city's Affordable Housing Strategy and  the committee's mandate is  "to identify housing needs and priorities; assist in finding collaborative and cost effective approaches; and provide networking opportunities for housing providers to share knowledge and identify opportunities for collaboration, cooperation and sharing of expertise."
The Nelson Housing Committee's members are:
Katie Tabor representing the Nelson Committee on Homelessness 
Ray Stothers representing Alpine Lakes Suites 
Jenny Robinson representing the Nelson Cares Society
Lena Horswill representing Nelson Community Services 
Kathy Fair representing Habitat for Humanity
Lorne Westnedge representing the Nelson & District Credit Union 
Trevor Jenkinson representing Nelson Realty
Lynn Adams representing Community First Health Co-op
Sandy Byers representing Nelson Kiwanis Projects 
Laurie Schneider representing 2013 Highway 3A Properties
Laureen Barker representing the Community at large 
Darwin Horning representing the Community at large