More than two grand, 70 birdies, five eagles and a hole-in-one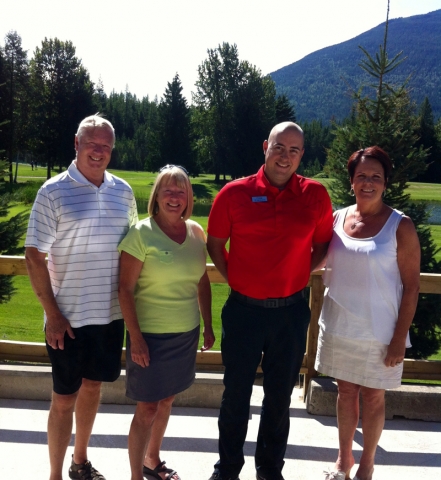 Local golfers Braden Chown and Craig Wilkinson golfed from dawn to dusk as part of the PGA of BC Golfathon to raise more than $2,000 for ALS patient services (Monday) June 10.
The total topped the $1,167 total from 2012.
Wilkinson was on hand Friday at the Balfour Golf Club to receive recognition first hand from Wendy Toyer of the ALS executive.
Chown and Wilkinson completed 162 holes each with 70 birdies and five eagles.
The highlight of the day was Chown registering his first ever hole-in-one on the 7th hole of the fifth round.
All funds raised go toward finding a cure for Amyotrophic Lateral Sclerosis (ALS ), also referred to as Lou Gehrig's Disease.
This is a fatal  neurodegenerative disorder that affects the person's motor neurons that carry messages to the muscles resulting in weakness and wasting in arms, legs, mouth, throat and elsewhere; typically the person is immobilized within two to five years of the initial diagnosis.
There is no known cause or cure yet, but there is hope through the ALS Society of BC.
Donations can still be made online at: www.golfathonforals.ca