Local players battle with the best at Spokane Hoopfest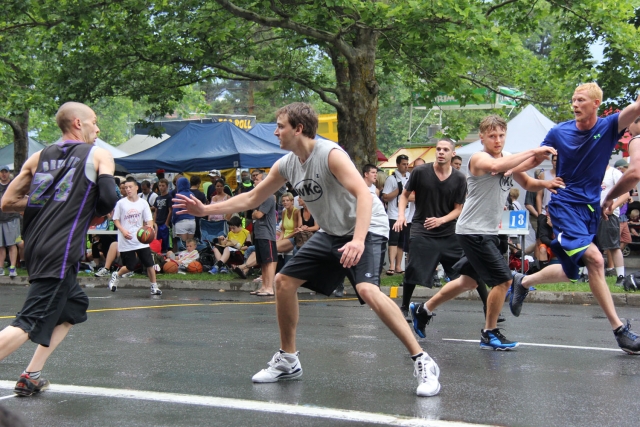 You can take the player off the basketball court, but you can't take the basketball sport away from the player.
A group of West Kootenay players from Nelson and Salmo teamed up to compete at the 2013 Spokane Hoopfest 3-on-3 Basketball Tournament this past weekend in the Lilac City.
Thousands of hoopsters from across the Pacific Northwest braved rains and slippery courts Saturday before the sun came out Sunday.
The West Kootenay Connection team of Dale Verdon and Ron Crowe of Salmo and former LVR Bombers Brodie Blair and Matthew Fuhr, made it into the championship round before being knocked out.
LVR Junior Bombers also entered a team in Hoopfest.
Hoopfest has grown to become the largest 3-on-3 street basketball tournament and family festival of its kind in the world.  
Annual participation in Hoopfest exceeds 7,000 teams and 27,000 players with 42 states including Hawaii, Georgia, and Kansas, represented.
The tournament, which takes over downtown Spokane for the weekend, now needs more than 450 courts to house the 14,000 games.
It is believed that the second largest 3-on-3 basketball tournament in the country has no more than 1,500 participating teams.