Let the 'Skatepark' construction begin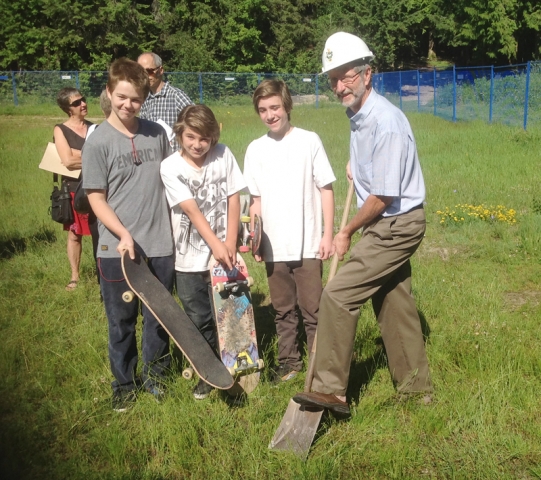 All that planning.
All that fundraising.
All those designs.
All of the above is now history after Mayor John Dooley stuck the ceremonial shovel into the ground Wednesday morning at the Art Gibbons Park (a.k.a. Rosemont Park) to begin the construction of the Nelson Skatepark.
Mayor Dooley was joined by councillors Robin Cherbo, Donna Macdonald and Deb Kozak, City of Nelson City Police and Bylaw Officers along with City of Nelson department heads, KLOPS (Kootenay Lake Outdoor Skatepark Society) supporters and some of the numerous business leaders whose donations helped kick start the $600,000 skatepark effort.
"This park is going to enrich the lives of so many young people, " said KLOPS spokesperson Chad Hansen Hansen. "And it's going to enrich the community itself."
The project got another $5,000 boost from the Nelson Daybreak Rotary Club, with a donation from President Sandra England, who challenged all other volunteer organizations and businesses in the city to match the pledge.
"We want to help give the skatepark another financial push, to help get the job done right," said England. "We've been looking forward to this day for a long time."
The Province of BC also kicked in $400,000 Community Recreation Grant as well as the Columbia Basin Trust donation of $61,000.
Local businesses with in-kind donations include Nelson and District Credit Union, Selkirk College, the Martin Hotel Group, Shambhala Music Festival, DDC Excavating, Home Hardware, Maglios, Nelson Ready Mix, and the Lions Club.
Hansen says KLOPS has just $30,000 to go to reach its fundraising goal of $600,000. Supporters can still help out, by visiting www.nelsonskatepark.com.
The project, which will see the construction of what's being billed as a 15,000 square foot "All Wheel Park" suitable for BMXers, mountain bikers and in-line skaters too, is being overseen by Langley's New Line Skateparks.
If everything goes according to plan, the Skatepark may be ready for use this fall.