Kootenay crew back from Fort McMurray Healing Walk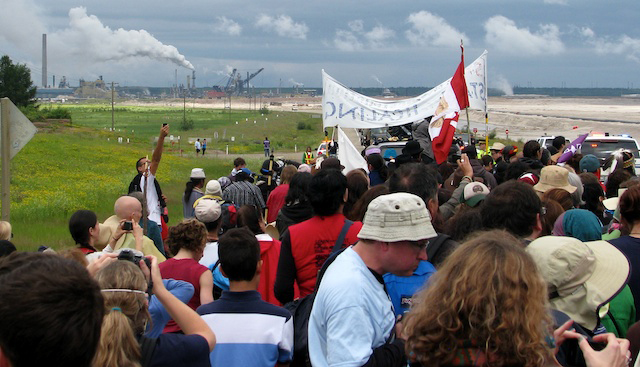 The Kootenay Magnificent Seven have returned from participating in the fourth annual Tar Sands Healing Walk held July 5-6 in Fort McMurray, Alta.
"There were people there from across the continent," said Nadine Podmoroff, who helped organize the trip.
First Nations activists organize the Walk to help draw attention to, and heal, the great scar created by massive tar sands mines and processing plants. 
This year's event was by far the largest ever with hundreds of people attending, including author Naomi Klein and prominent 350.org spokesperson, Bill McKibben. 
Other prominent speakers were Winona LaDuke from Honor the Earth in the US, Tzeporah Berman from BC, Ben West from Forest Ethics, Wab Kinew from Ottawa, Dene leader Bill Erasmus, and many other elders and representatives.
McKibben and Klein highlighted the increasing frequency of global climate change disasters and the importance of replacing fossil fuels with sustainable energies.
Tom Nixon, an activist with Kootenays for a Pipeline-Free BC, went for his second time this year. But he says this time he trained in advance to cope with the 14 kilometer walk through the heart of the tar sands mining area.
"I was pleased not to be there alone this year. Great to have people representing our area too. The tar sands are a huge problem we must deal with together," Nixon said.
The Keepers of the Athabasca organizes the Walk and chaired by First Nations leader, Clayton Thomas Muller. The centrepiece event is the 14 kilometer prayer walk, which focused on healing the environment and people suffering from tar sands expansion.
Grand Chief Stewart Phillip, President of the Union of BC Indian Chiefs, pointed out the increasing propaganda from federal government officials who, he says, clearly aim to develop the Northern Gateway and Kinder Morgan pipelines to facilitate massive tar sands expansion.
Phillip said they are misleading Canadians, claiming "is an urgent matter of national interest." 
Phillip said that he is preparing to take stronger action and invited all people to join the movement.
Mike Hudema of Greenpeace Canada said that it's unknown if the heavy rainfall a few weeks earlier caused the 170 Kilometers of tar sands tailings ponds to breach into the Athabasca River. 
"The only way we could find out is by flying over the tar sands", Hudema said.  
"The profoundly magical;  uplifting Indigenous ceremonies, drumming and singing sharply contrasted with the immense tar sands pillage and irreversible destruction of what was once a vibrant life giving boreal forest" said Podmoroff, member of the Nelson Chapter Council of Canadians.