Health coalition raises questions about new KLH Emergency Room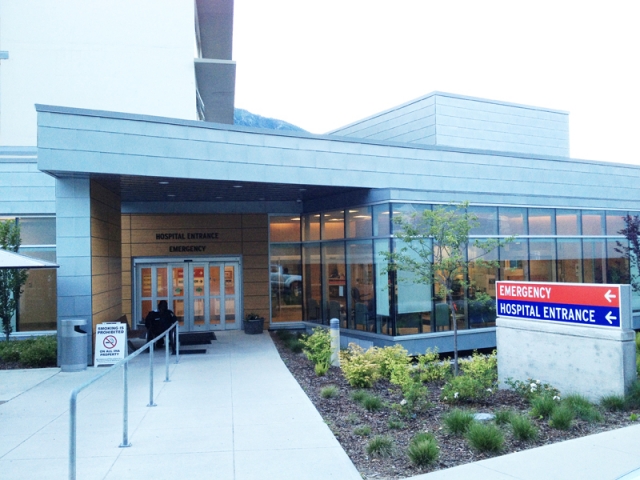 By Suzy Hamilton, The Nelson Daily
A regional healthwatch coalition of concerned citizens is criticizing Interior Health (IH) for poor design and mismanagement of the new emergency room at Kootenay Lake Hospital, as well as several other health care delivery systems.
And according to Connected Communities Coalition (CCC) spokesperson Pegasis McGauley, IH acknowledged at their June 11 meeting that the design of the $13.8 million KLH renovation is flawed.
"Ingrid Hampf, Acute Area Director of Kootenay Boundary from IH, informed us that the new $13.8 million KLH emergency room had a 'bad design', more appropriate for a larger facility with more nursing staff," said McGauley.
McGauley said this is a welcome acknowledgement, as data collected by volunteers on a weekly basis suggest that the reception room's design makes for longer waits, poor communication and delayed triage.
McGauley said that part of the problem is that reception is now located at the new emergency entrance. Although the old entrance is still in use, patients and visitors are no longer greeted with a receptionist at that entrance and must go to the emergency room reception at the other end of the building.
"As a result, ER patients wait in longer line-ups before they are triaged. This delay could be critical," said McGauley.
The layout of the new waiting room also causes communication problems for the waiting patient, she said.
"We noted one improvement in the coordination between the ward clerk and the triage nurse, but it does not resolve our concerns," said McGauley.
But Hampf said that the new emergency room is "absolutely state of the art," and that the coalition took her comments out of context. " I was speaking only of the reception area, per se," she said.
"We are struggling, I'll be honest," she said. "The challenges are with signage." 
Hampf said the new waiting room was designed to offer privacy and security. Formerly everyone could see who was being treated and that was not desirable, she said.
"We have tracked the wait times, and on the norm, there is no delay."
Hampf said a "lean study" similar to Toyota Corporation's model will be initiated to see if the situation can be improved. "This is a study to look at ways at looking at your services in a methodical way, to find waste in the system," she said. "Are there things that we should question how we do them?"
But McGauley questions these studies. "Why are we running our hospitals like Toyota?"
The CCC is also concerned with public transportation to and from the Kootenay Boundary Regional Hospital in Trail. Although a new bus schedule now integrates transportation from community to community, transfers in Castlegar to Trail can be onerous for the elderly or sick patient, said McGauley.
"Transportation falls under the BC transit," said Hampf, adding that IH has had input and funds into the new transit system which she said is "an overall improvement."
Another option for appointments and non-emergency service is a Volunteer Driver service for residents of the area said Hempf.There is a fee for the service. Nelson residents pay $55 per trip to Trail, for example, but according to the website, subsidies are available. (http://www.cdcss.ca; Phone: 250-304-2990; toll free 1-877-304-2990)
The CCC also sees the ophthalmology program as a reduction in services. Ophthalmologists in Trail now send their patients to Kootenay Lake Hospital for cataract surgery because the physicians "didn't find the equipment in Trail satisfactory," according to Hampf. "We made the decision a year ago to go with a single site."
Hampf said the number of surgeries has not decreased.
But McGauley said service to Trail residents has decreased. "It's not our issue, but we're saying services shouldn't disappear," she said. "After all the reductions in 2002, reductions are still happening."
McGauley said the CCC would be taking their KLH emergency room complaint to the West Kootenay Regional Hospital Board. "We have officials saying in public that the emergency room was badly designed. We can go back to the board because the only thing they can discuss is capital costs of hospitals."
We want to ask them, " How are you going to fix this and report back to us at every stage," said McGauley.
Connected Communities Coalition, founded in 2002, meets with IH twice a year, raising issues of concern from the communities of Trail, Nelson, Castlegar, Kaslo, Nakusp and the Slocan Valley.  
Coalition members are comprised of former nurses and social service workers.