Cottonwood Creek bridge repairs completed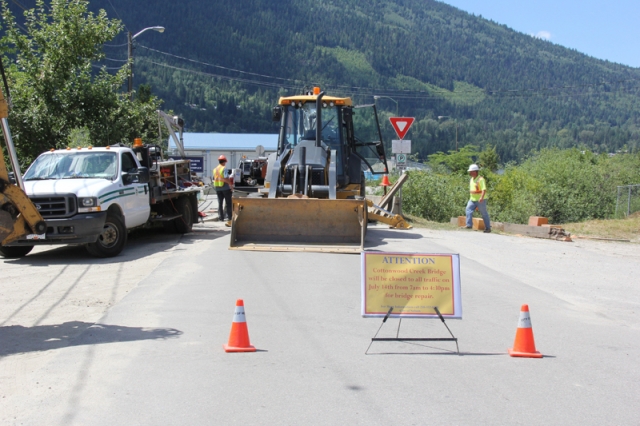 City Public Works crews completed the construction of the Cottonwood Creek Bridge on Lakeside Drive in record time.
The closure of the bridge that links traffic to the Regional District of Central Kootenay transfer station and the west end of the City of Nelson Dogwalk, was necessary to replace aging bridge timbers.
The bridge was closed most of Sunday, re-opened during the afternoon.
The bridge closure completed a hectic few days on Lakeside Drive.
Paving crews completed some patch paving near the east end of the City Airport.
Don't forget about water restrictions
City staff would also like to inform the public, effective immediately, water restrictions are in effect.
Until September 30, residents at odd numbered addresses water on odd numbered calendar days while residents at even numbered addresses water on even numbered calendar days.
Watering is restricted to 6-10 a.m. and 6-10 p.m. respective days.
Automatic sprinklers are permitted between the hours: 10 p.m. to 6 a.m. on alternate days.
Residents are advised not over-water your lawn.
Most healthy lawns need 2.5 cm of water (equal to about one hour of sprinkling) per week. 
For more information check out the City of Nelson website at http://www.nelson.ca/