Wasn't that a Party! Nelsonites help make Nelson Fire Hall 100th birthday a celebration to remember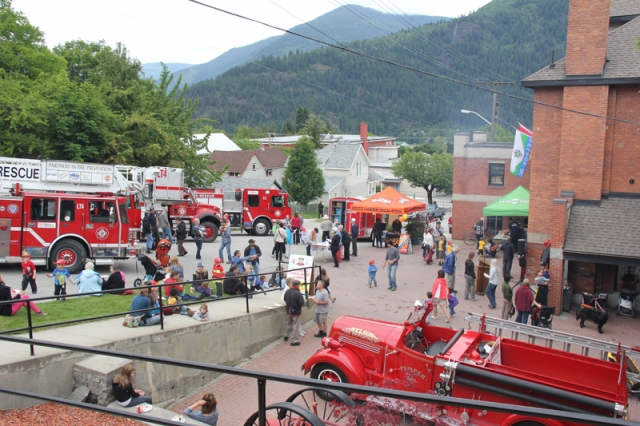 Now wasn't that a party!
Saturday, hundreds flocked to the century-old Nelson Fire Hall to celebrate the 100th birthday of the Ward Street facility.
"We're way beyond our expectations of how many people we thought would show up to our 100th birthday celebration barbecue," Nelson Fire Chief Simon Grypma said during the birthday extravaganza.
"We just can't say how happy we are at this kind of support from the community to help celebrate our 100th anniversary."
The Nelson Fire hall on the corner of Ward and Latimer Streets was officially opened on May 20, 1913.
Horses pulled the first fire suppression wagons.
Today no other BC fire hall has been in operation longer.
"I think Nelson feels very strongly about being a heritage community," Grypma, part of the Nelson Fire Department since 1976, said when asked about the community response.
"We are the Heritage Capital of British Columbia and the Fire Department affects a lot of people with our service.
"I think they all came out to show their support for the fire department and help celebrate such an iconic building."
The celebration was filled with events.
There was a Junior Firefighters challenge, a barbecue featuring hotdogs and hamburgers along with a tribute ceremony that unveiled the 100-year plaque.
"Looking back 100 years when the hall opened, I imagine they would have had the same kind of celebration," Grypma said.
"It's quite a building when you look at it. Considering it was originally built for horse and now we have it full of modern apparatus delivering a service."
To mark the 100-year birthday, 40 Nelson Fire Chiefs have been back in Nelson to tour the facility.
Currently at Touchstones Nelson, until September, an exhibit — City in Flames: A Journey Through Nelson's Fire history — chronicles some of the worst fires in city history.