Waneta Expansion Project Community Day welcomes more than 3,000 eyes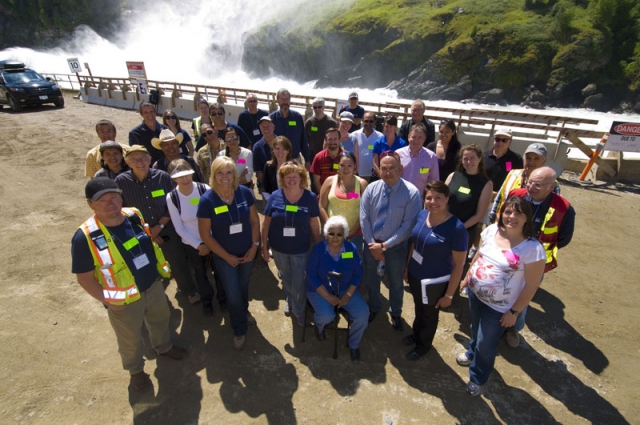 More than 1500 people took advantage of an open house to tour the new Waneta Expansion Project, south of Trail near the Canada/USA Border Sunday.
The partners in the Waneta Expansion Project — Fortis Inc., Columbia Power Corporation, and Columbia Basin Trust — tossed out the invitation for the Community Day Open House.
"This is a great opportunity to showcase a clean, renewable energy project that is growing the economy in the Columbia Basin by providing 350 good paying jobs and over $150 million in economic benefits," said Bill Bennett, Kootenay East MLA and Minister of Energy and Mines.
"Once completed, the expansion will provide enough clean, cost effective energy to power about 60,000 homes per year."
Tours of the construction site occurred throughout the day with the public transported from the festivities site to the construction site by bus with stops at the intake and powerhouse areas.
Tour officials shareed the project's progress to date.
The celebration also included all-day entertainment, First Nations cultural presentations, live music, children's activities, a complimentary barbecue and informational displays.
"The project boasts more than 350 people working directly on the project with a local hire rate of 75 per cent," said a Columbia Power press release.
"To date, local spending on goods and services has exceeded $150 million."
The release went on to say "a focus on a high standard of quality, safety and environmental protection, the project has logged over 1.5 million person-hours with no major safety or environmental incidents."
Tour participants were thrilled to have this rare opportunity to experience a large scale capital project while still under construction.
The Waneta Expansion Project is a partnership between Fortis Inc., Columbia Power Corporation, and Columbia Basin Trust. Columbia Power manages construction of the project of on behalf of the partnership.
The project is on budget and is scheduled for completion in the spring of 2015. For more information
please visit: columbiapower.org/wanetaexpansion.