Trafalgar students help eradicate plants during Invasive Species Week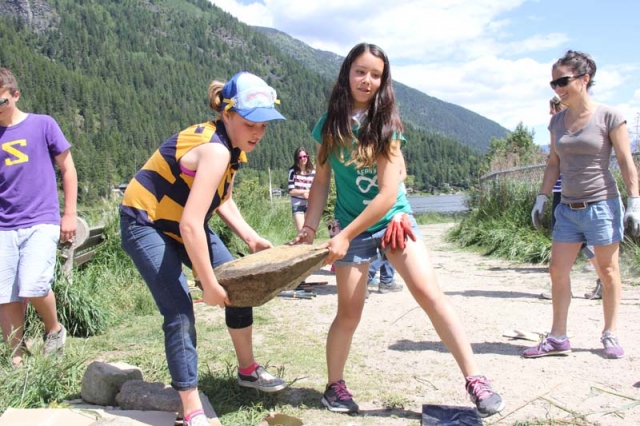 There's really no ways to celebrate Invasive Species Week (June 10-13) other than, well, rid the country side of more Invasive Plants.
All this week on the Nelson waterfront dog walk, Grade 7 students from Trafalgar Middle School are joining the fight to eradicate plants that are taking over the natural ecosystems as part of environment studies.
"We've highlighted areas within Nelson that are priority," Jennifer Vogel, project coordinator Invasive Plant Committee said during one of the many Trafalgar work parties.
"This area is a priority for the City as well as (public relations) piece for Invasive plants and to raise awareness because there are so many people who use this (waterfront dog walk)."
To the average user walking their dog along the waterfront, or just to someone wanting to get a little exercise the common tansy appears like a pretty button-like flower that enhances the beauty of the walk.
However, to Vogel, the the common tansy and knotweed, are an extremely aggressive plants and spreads very quickly, taking over native ecosystems and decreasing suitable habitat used by native species.
"I think historically the site was not maintained as well as other sites and these invasive plants, there's so much of it, it self seeds and multiplies," Vogel explains when asked why the invasive plant has taken over.
All through 2013 Invasive Species week more than 180 students from Trafalgar are removing invasive plant species before covering the areas with cardboard and bark mulch.
"We're trying to increase the biodiversity of the site as well as native plant habitat to increase bird population and native habitat for animals and plants," said Vogel.
Vogel is optimistic the project can be completed in a few years, thanks also to help from Selkirk College students and Cottonwood Creek Restoration Society.
This "Communities Pulling Together" event is supported by the Columbia Basin Trust and organized and delivered by the Central Kootenay Invasive Plant Committee (CKIPC).
Ironically, while the invasive plants may be back for the environment, they're good for the appetite.
All this week, ending Sunday (June 16), Rel-ish Bistro on Baker Street is featuring an exciting invasive species special menu.
Some of the items on the menu include watercress, walleye and quail.
As they say, "if you can't beat 'em, let's eat 'em," Vogel said.