LVR athletic department crowns top Bombers for 2013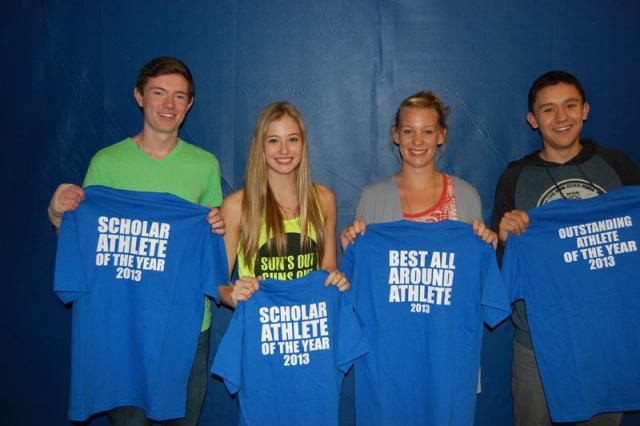 L.V. Rogers saluted its top athletes of the 2012-13 school term during a recent ceremony at the Fairview-based high school.
Top scholar athlete honours were presented to Jordan Mulvihill and Jayden Roch.
Mulvihill earned the award for his performance on the Bomber volleyball team and a number 1 Canadian ranking in skip rope during the recent championships.
Roch was one of the top volleyball and basketball players on the Bomber squad this season.
Both athletes averaged of over 80 percent in school along with an 18 /24 or better ranking from one of their coaches.
Best All Around honours went to Devyn Parker and Trace Cooke.
Winners must participate in two or more sports along with making significant contributions to the teams.
Parker was a top swimmer for LVR as well as made significant contributions to the Bomber basketball and rugby squads.
Cooke was key contributor to the Bomber soccer and rugby teams as well as earned top ranking in Canada for Freestyle Skiing.
Most Outstanding Athlete of the Year went to Matt Zukowski for Basketball and Paige Mansveld for field hockey, soccer and basketball.