It's the talk of the town 'Before I die' mural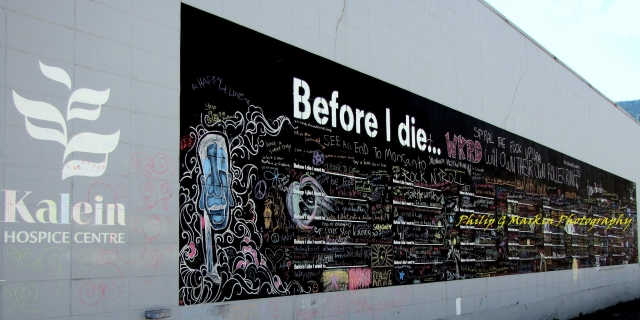 It's an idea that's new to Nelson but not new to the planet.
Still the Kalein Hospice Centre Before I die… mural, located on south wall of the new Kootenay Co-op building on Vernon Street, has been the talk of the town.
"The mural went up and before we knew it, it was more than half filled up," said board member Amy Garvey of the Kalein Hospice Centre.
Painted by artists Amber Santos and Tracy Fillion along help by students at SelfDesign High School, the mural is helping the Kalein Hospice Centre to create an awareness in the community about dying.
"Our mandate for Kalein, in addition to providing hospice care, is working on creating dialogue and education," Garvey explained.
"Our mission is to really bring more awareness of out into the public of our own mortality and engage in the conversation around death and dying.
"We believe as we engage further in that conversation it really challenges people to live fully in all facets of live, including the end of life."
Garvey said the "Before I die…" mural is a public art exhibition that started in New Orleans.
Candy Chang began painting abandoned buildings following the devastation created by Hurricane Katrina as a way engaging the conversation publically.
"It has since gone viral," Garvey said.
Garvey said it took about a year to get the wall going in Nelson, starting first with permission from Kootenay Co-op, then onto the City Public Arts Council.
Santos, Fillion and SelfDesign students, with materials from Home Hardware, began painting the mural last week.
"It's really easy for the public to participate," Garvey said, adding the mural is being respected by taggers in the city.
"There's chalk at the site and people can just come and fill out what they want. We come and wash it off once it gets full."
Kalein Hospice Centre, located in the former Catholic Monastery in Rosemont, is dedicated to exploring and expanding the cultural understanding of what it means to live fully through all stages of life, including end-of-life. 
The Before I die… mural allows the Kalein Hospice Centre to get the discussion started.
"It's more I think we all have an awareness around dying," Garvey said. "Obvious (dying) is something we're born with as far the contract we were handed. I think there's a bit of a denial around our own mortality and around our own death."
"We just feel this is just a gentle and subtle way of asking some deeper questions of people."
For more information on the Kalein Hospice Centre go to http://www.kaleinhospice.org/