Hundreds continue fight during Nelson Cancer Relay for Life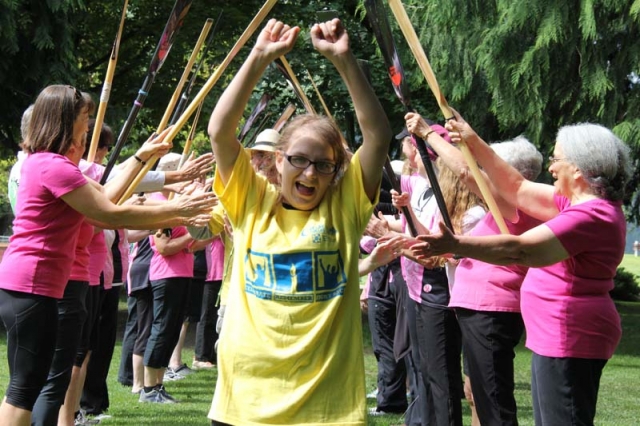 Cheri Poznikoff fought hard to hold back the tears during a speech at the opening ceremonies of the 2013 Nelson Cancer Relay for Life Saturday at Lakeside Rotary Park.
But the tears were not tears of sadness.
Poznikoff's tears were of jubilation thanks to the support she receives from being part of the Nelson Cancer Relay for Life.
"Because then I know I'm not alone," Poznikoff said when asked about the Cancer Relay for Life, an event that brings together survivors and supporters with one goal — to rid society of this deadly disease.
"To see the other survivours and knowing (my daughter Kate) has a long life ahead of her is a great reason to be part of the Relay for Life."
Kate Poznikoff is nearly died from cancer.
However, thanks to the tremendous support of doctors and the Canadian Cancer Society, Kate is alive and well and was the honourary speaker at Saturday's event.
Saturday's Cancer Relay for Life, Nelson edition, opened with speeches before a ceremony honoring the survivor's in the annual Victory Lap.
"We've already raised more than $7,000 and we haven't even started to relay," said Stacey Cassidy, Coordinator for the Canadian Cancer Society, B.C. and Yukon Division.
Kootenay Rhythm Dragons, formed to help fight breast cancer, led the Survivors Victory Lap before friends, family and teams began the 12-hour relay.
"Without the funds we are raising here today Kate would not have survived," Poznikoff, fighting back more tears, explained.
"We literally had to maintain two households . . . one here in Nelson and one in Vancouver. The Cancer Society paid for our stay in Vancouver, paid for flights . . . everything we needed."
The B.C. Cancer Relay involves more than 14,000 participants at 49 events throughout BC and Kootenays — the relay in Nelson is the fourth in four weeks in the West Kootenay/Boundary region.
More than 1,900 cancer survivours celebrated the Survivour's Victory Lap in 2012.
The funds raised goes to investing in the best cancer research and provide a range of support programs to cancer victims, including family members and caregivers.
"We can . .  . together with help from our community, our province and our country, we can beat this," Poznikoff exclaims.
"One day we will."