Park Street residents escape attic fire thanks to alert neighbour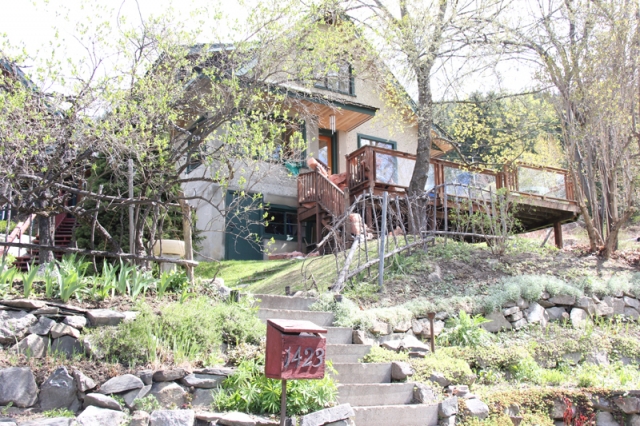 A quick thinking neighbour may have saved Park Street residents from injury after fire broke out Wednesday evening in the Uphill district of Nelson.
At approximately 9:35 p.m., a neighbour in the 1400 block of Park Street noticed the roof of nearby residence was on fire.
The neighbour quickly notified the occupants at home at 1423 Park Street of the fire, who immediately got out of the house along with their pets.
"The fire appears to have originated in the attic space," Nelson Fire Department Assistant Chief Michael Daloise said in a written press release.
"The fire damage was contained to the attic and roof," Daloise added. "There is a small amount of water damage due to the suppression efforts."
Fifteen additional members who arrived from their homes, joined on duty firefighters from the Nelson Department.
Nelson police was first on the scene and advised that all occupants had escaped the home.
Officers also assisted the first crew with hose line deployment as well as dealt with traffic control.  
BC Ambulance was on scene in case they were needed.
Nelson Hydro crews responded to shut off the power to ensure safe operations.
"The first arriving crew primary objective was to ensure that the fire was not inside the house.  Once it was determined that the fire had not extended inside, suppression efforts were directed at the flame on the roof," Daloise explained.
"When additional crews arrived on scene they entered the house to check for extension in the attic.  When they opened the attic they were met with heavy fire conditions and preceded to attempt to extinguish the fire. 
Daloise said due to the confined access to the attic crews had to ladder the roof and remove roofing to ensure that the fire was completely out.
Early estimates have the fire causing approximately $30,000 in damage.
An insurance adjuster was on the scene Wednesday afternoon to assess the damage.
Although the matter is still under investigation it does not appear suspicious at this time.
No injuries were reported as a result of the fire.
Daloise said Nelson Fire Rescue would like to take this opportunity to remind the public to ensure that their wood burning appliances and smoke alarms are maintained.