Garland, Moisey grab low gross crown, Marinas, Palm low net champs at 2013 Tournament of Roses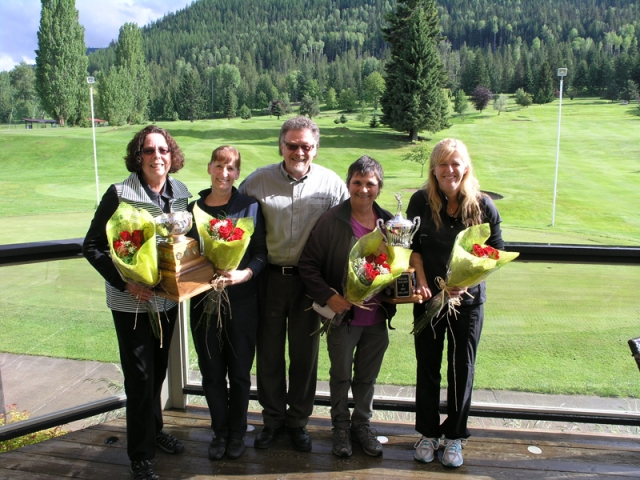 The two-person team of Dorothy Garland and Sue Moisey took the top prize at the 2013 Tournament of Roses Tuesday at the Granite Pointe at Nelson Golf Club.
Garland and Moisey edged the strong field to claim the Nelson and District Credit Union low gross title with a score of 91.
Ted Allen's Jewellery low net winners was the team of Marcia Marinas and Michelle Palm with a stroke total of 63.
For years the Tournament of Roses was a low gross individual tournament.
However, a few years ago organizers decided to change the format to a team tournament.
Peace Rose Flight #1: First Low Gross Sherry McIvor and Tammy Avis 84; Second Low Gross Roma Crispin and Carol Reay 85; Third Low Gross Fran Farnsworth and Pat Lawrence 91. 1st
Low Net Lynn Foster and Bev Stevens 66; Second Low Net Linda Tamblyn and Ann Gouk 66; 3rd Low Net Arlette Dunbar and Connie Kostash 68.
 
Tea Rose Flight #2: First Low Gross Laurie Hepple and Bev Poole 89; Second Low Gross Lorna Maxwell and Mary Gris 91; Third Low Gross Cathie McLaren and Audrey Arcuri 93.
First Low Net Heather Pottle and Cheri Carlson 66; Second Low Net Corrine Scheldrup and Shirley Wolbaum 66; third Low Net Verna Chernoff and Linda King 72.
 
Queen Elizabeth Rose Flight #3: First Low Gross Lois Cutler and Hilda Taylor 96; Second Low Gross Marie Berg and Bronwen McLeod 101; Third Low Gross Marlene Symmonds and Lorraine May 108.
First Low Net Marlene Ink and Gwen Acres 68; Second Low Net Mary-Ann McLellan and Maxine McLean 72; third Low Net Fran Crawford and Joan Jordan 79.
 
Closest to the Pin winners: Dorothy Garland, Shirley Wolbaum and Maxine McLean.
Longest Drive Winners: Pat Lawrence, Ann Gouk,  and Hilda Taylor.
Longest Putt:
Marianne Lefley,  the ZigZag Drive was won by Heather Pottle and Lorna Maxwell won the Water Ball.
Bombers down the leader board at AAA Championships
The L.V. Rogers Bombers team of Grade 12 Ben Le Marquand, Grade 11 Brenden Hartridg, Grade 10 Hanno Southam and Carsen Arcuri and Grade 9 Oliver Horner are in tough at the 2013 B.C. High School AAA Golf Championships at Crown Isle Golf Club on Vancouver Island.
The Bombers currently sit 21st overall in the tournament after Day one of the 36-hole event.
The tournament concludes Wednesday with a shotgun start.
The host school, Mark Isfeld, leads the pack.
Rossland Royal third at A golf championships
Tyler McKay finished third overall to lead the Rossland Royals to a third-place finish at the 2013 B.C. High School A Golf Championships Tuesday at Birchbank in Trail.
The team of McKay, Brennan Moroney, Braden McKay, Jeff Ashton and Wayette Henderson won the bronze medal.
The Nakusp team of Brent Mengler, Nathan McInnes, Dugan McInnes, Kodi Bowman and Zach Friedenberger finished fifth.
Immaculata of Kelowna won the gold medal with Kimberley's Selkirk Storm second.