Hustle and Flow: Dylan Humphreys and Friends at Ourglass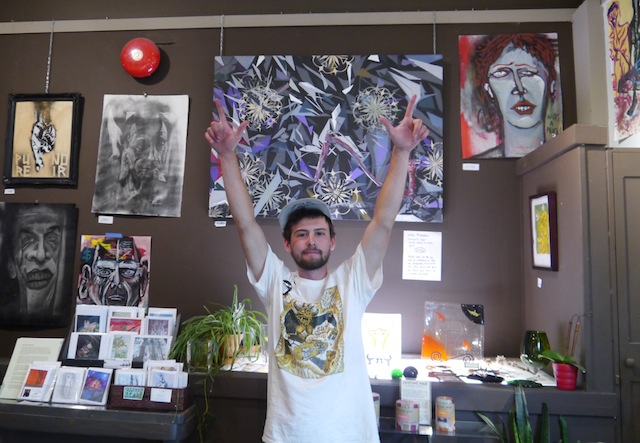 Dylan Humphreys graduated from LV Rogers in Nelson and then immediately went Capilano College and then to the Emily Carr College of Art, where he just completed his third year of study. While he was still in high school he was well known as a driven, focused artist, with a self-confidence seemingly beyond his years. His startling paintings were not what we expected from a high school kid.
Last week Dylan opened Hustle and Flow at Ourglass in Nelson— a collection of collage, painting, drawing, silk screen prints and more from ten of his artist friends in Vancouver (plus Nelson's Oliver Davison).
The Nelson Daily interviewed him on opening night. The following is an edited transcription of that interview.
The Nelson Daily: What are you doing here at Ourglass?
Dylan Humphreys:I'm throwing a show, a party, representing my friends from the city and bringing some new culture to Nelson. My intention was to bring stuff that nobody has ever seen here. A lot of what you see here is artwork related to sub-culture, like punk rock, tattooing, graffiti and hip-hop. For artists in the later 20th century, that started becoming a much more natural thing, and now we have magazines like Juxtapoze and others integrating all these parts of culture together, a really a natural organic thing.
Do you and the art you are talking about fit into Emily Carr?
Everybody fits into Emily Carr. You have got a lot of different types of students at that school and different types of ideas and practices. I find that as long as you are self motivated and you are willing to just go there and bring that positivity and that ability to just like stick it out, not go home right away, spend your time in the studio, spend that extra couple of hoursto make sure that print or that painting works out. You are spending a lot of money to be in a privileged location, so you gotta make it work. A lot of people get frustrated with the fact that it is such a social experience and there are a lot of different types of things, so you gotta keep your guard up and stick to your tools and make sure you come out of it with what you were looking for.
Tell me about how you got to Emily Carr
I love Nelson, and while I was here I always wanted to study art and Emily Carr was always in the back of my mind, and I was here developing a plan, I would go and hang out with the graphic designers and they would give me photoshop tips, or I would be hanging out with Shane talking about the trends in graphics and skate culture, and then I would go to Grounded and I would just sketch and make plans. It is funny coming back here and finding all these sketchbooks again and all those plans that I made before I made this pilgrimage back to Vancouver where I was born, and I just was waiting so long for a community, something to do, a place to hang artwork, a scene to be a part of, and you have got that here, it's just that there are not as many avenues for younger artists work.
Locally, Ourglass is a great space and they've got lots of life and music. Ritchie and Dan are awesome people and cool to work with this subculture of new art. In some circles they call it alternative art or low-brow art, but basically their whole theme or aesthetic is with this sort of definitely contemporary edge. Not contemporary in the sense that at Emily Carr, contemporary art can be very academic and very conceptual.
This is a lot more of art for the people, an aesthetic that people can understand, bringing in for instance, I love street art so bringing in friends like Arlen French or my friend Austin, a lot of these guys are used to working in the streets. Comics, graffiti, I think a lot of people look to a lot of older culture like the alternative comics movement or the graffiti movement of the 70s and 80s and they really want that to come back and so a lot of these things are coming back. The graffiti culture right now is really good in BC, a lot of good writers, you have Soak, Aspect, Sumo, I mean the list goes on, in terms of people to look up to, people who are putting that out in the community.
What is happening in Nelson in that world?
I just got back from Shambhala which is a huge community organization. I have a realization at one point in a bathroom stall at one of urinals and it was so funny because I saw tags from all my friends, from Vancouver, locally, poetry from my rapper friends, and seeing all that come together I just laughed, like this is it, this is the place we all get together. Me and my friend Sangito, we networked, we had business cards and put out a positive creative vibe the whole time, where we were just constantly creating, made masks, posters, we did tags around the festival, it was being free, really just an amazing opportunity.
Everyone will understand when I say that this year was about community–the family oriented energy was really there. I felt a lot of people were looking after each other and really looking to this festival with a positive intention and generating that spirit, making things happen right now. I think about that movie Midnight in Paris that Woody Allen just did and there is a scene where they are talking about, I always wanted this to be the time, you know, I just want to make it happen now, I am not thinking about the 30s or the 80s, I am just trying to take a look at what I can do now, and trying to inspire people of all generations to realize that art happens in every moment.
How is this exhibit at Ourglass connected with that?
A lot of what I am trying to do now is just document, document, document, if you are not able to get people out on one night, you've got the photos and video online or something and people experience that. Bringing that to people now is something  really important. I try to be more into the blogging side of things too, it can be very draining, it takes the artist away from the practice of making art, so that is another dynamic balance but I am working on that. Curating takes you away from that, I have been running around networking, curating my friends' work, but these are all things I love about art and the work just happens naturally and I am just happy to support these friends and they are facebooking me and texting me and stuff, it is just great times, you know.
What does Nelson mean to you?
It always comes back when I am here, I can feel that life again. For me it's just an amazing opportunity to vacation and spend time with my friends and family who I miss terribly but who support me, and being back here is recharging, I am back here to re-charge before I go back to Emily Carr again.
I am feeling good about the people I have met and the friends I have reconnected with and I look forward to the blank page.
Hustle and Flow continues at Ourglass, 568 Ward St., until September 15. In addition to one photo of Dylan Humphreys, the images below are of his work except one by Sangito Bigelow. Click to enlarge.