UPDATE: Evacuation alerts rescinded for West Kelowna residents as fire crews get a handle on Wilson's Landing wildfire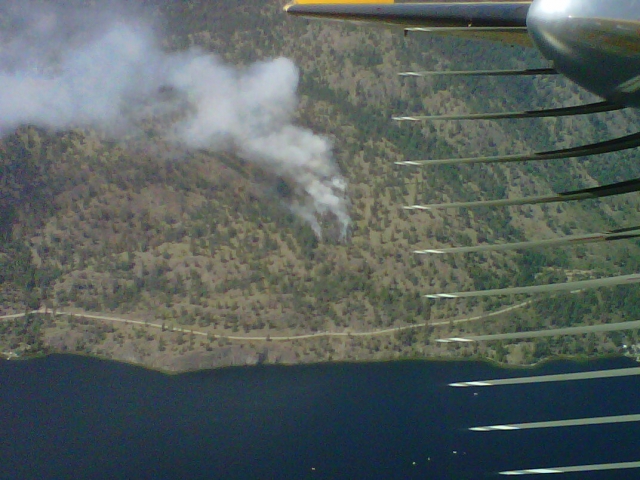 The the Southeast Fire Centre said Wednesday the Wilson's Landing wildfire near West Kelowna is still burning, but is 100 percent contained.
"Crews have now reinforced the hand guards with a 50 foot wet line around the wildfire," according to the Southeast Fire Centre website.
"Crews will remain on site until complete extinguishment of the wildfire is complete. Smoke and sometimes flame will be visible as crews continue to work toward the middle of the burnt area."
Previous evacuations issued by the Regional District of Central Okanagan have been rescinded.
The fire, caused by lightning, has 70 firefighters and two helicopters in the mop up stage.
The fire is 27 hectares in size.
UPDATE: Wilson's Landing wildfire near West Kelowna 75 percent contained
The Wilson's Landing wildfire near West Kelowna has been 75 percent contained said the Southeast Fire Centre Tuesday.
Tuesday, 70 fire fighters returned to the fire with the help of four helicopters and two water tenders.
The crew focused on reinforcing handguards to further increase containment.
The fire was started by a lightning strike Saturday evening.
Wilson's Landing wildfire causes RDCO to issue evacuation alert
Winds have turned a relatively calm Wilson's Landing wildfire into one of concern, forcing Regional District of Central Okanagan to issue an Evacuation Alert for some Wilsons Landing area residents Monday.
At approximately, 10 p.m. Sunday strong down slope winds, aggressive fire behaviour and unsafe terrain hampered fire fighting efforts overnight.
It is believed the fire jumped the guard at 11 p.m. At the time the Wilsons Landing fire in West Kelowna was 60 per cent contained.
Air tankers and three helicopters are responding to slow the fire's growth. Ground crews are actively burning fuels between the fire and Westside Road to establish a fire guard against the road.
Westside Road will remain closed for public safety reasons.
The Southeast Fire Centre reports crews have been on site Monday and Sunday night working hard to re-establish containment lines where it was safe to do so.
The fire spread is southward towards Westside Road.
The fire, caused by lightning, is on the hill above Wilsons Landing in West Kelowna and was first reported Saturday (July 28).
Currently 70 firefighters, five helicopters and three airtankers have been deployed to battle the fire.
The Southeast Fire Centre report the fire is 20 percent contained
There is a retardant line around the perimeter of this wildfire except for where Westside Road is already being utilized as an existing fuel-free break.
A low vigour surface fire continues to burn in the area.