Kootenay Lake continues to rise; RDCK issues new state of emergency in Area G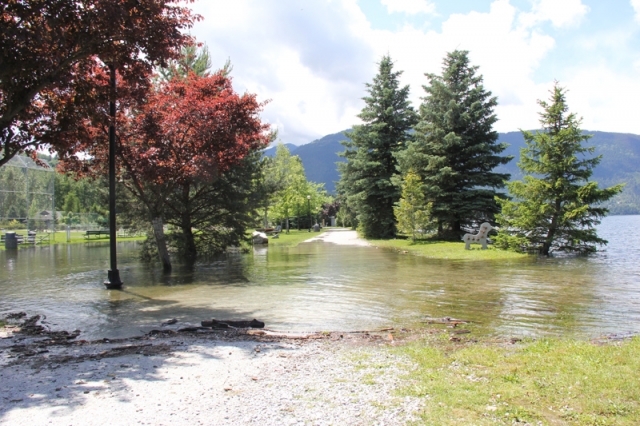 Heavy rains have resulted in a new state of emergency being declared to Area G according to Regional District of Central Kootenay Emergency Operations Centre public information officers, Bill Macpherson.
Area G includes Hall Siding, Ymir, Ross Spur, Airport Road, Erie, Porto Rico, Nelway and North Salmo.
"Heavy localized rainfall today continues to create problems for numerous areas within the Regional District of Central Kootenay (RDCK)," Macpherson said in a written press release.
"A state of local emergency has been declared for Area G, in addition to states of local emergency currently in place for Areas B, C, H and I. 
"The declaration was issued today at noon in response to land instability issues, particularly regarding a RDCK-owned tailings pond."
Record rainfalls have saturated the facility's retaining walls and some sloughing has occurred.
Macpherson said current conditions make placing equipment to do remediation work difficult. A geo-technician is on site assessing the situation and local residents have been notified.
The tailings pond was previously part of the HB mine site before being purchased by the RDCK as part of their central landfill property.
Across the region, rivers and creeks are being monitored as the rainfall has increased levels and flows.
Peterman Road in West Creston (Areas B and C) remains closed due to water over the road, putting 32 residences on an evacuation alert.
In Area D, the bridge on Keen Creek Forest Service Road is being assessed by the Ministry of Transportation and Infrastructure.
The road has been closed at the bridge and four local residences were recommended to evacuate voluntarily by the RCMP. One resident has evacuated, the others are in contact with the RCMP on an ongoing basis.
Carpenter Creek near Sandon has had some undercutting of its banks and a bridge is being rip-rapped to reinforce cribbing as the structure was threatened by a debris torrent. 
RDCK emergency coordination staff are currently assessing the damage.
Electoral Area B includes Canyon, Erickson, Lister, Huscroft, Rykerts, Arrow Creek, Yahk, Goatfell, Kingsgate, Kitchener, Glenlily, Goat River Bottom and Lower Kootenay Band.
Area C is the region of Duck Lake, Lakeview, West Creston (Flats) and South Reclamation while Area H is the Slocan Valley.
Area I is Pass Creek, Thrums, Tarrys, Shoreacres, Glade and Brilliant.
The heavy rainfall has also affected Kootenay Lake and other area reservoirs. The main lake has risen to 1753.7 feet (534.53 metres) and forecasts indicate it could rise to a record level of 1754.4 feet before peaking.
Sand and sandbags are available at locations around the lake and throughout the region.
Residents are reminded to access sand and sandbags only if they are essential to protect homes and property.