Kootenay Co-op helps raise funds for Johnson Landing residents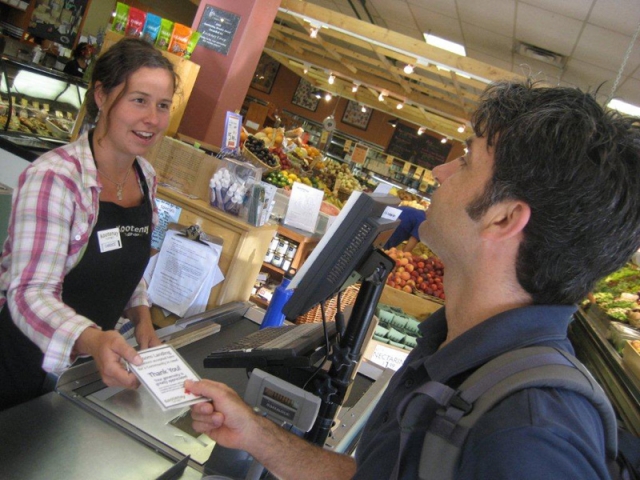 Kootenay Co-op is doing what it can to help the disposed residents of Johnson Landing by accepting donations at the Baker Street location.
"We've helped out in the past, like when the Kerr building burned down," Marketing & Outreach Manager for Kootenay Co-opm Jocelyn Carver told The Nelson Daily Thursday.
"We had a request from our members to help out."
The way it works is the public comes into the Baker Street story and lets the cashier know they would like to make a donation with the dollar amount.
Anyone can make a donation and need not be a member.
"It's easy for us to help," Carver explained, adding in a few short days the fundraiser has garnered  $400 for Johnson Landing residents.
"We can get the program up and running within 24 hours and people can make donations from $2 to $20."
All monies raised will go to the Red Cross assistance fund for the Johnson's Landing community to help with: clean-up materials so families can move back into their homes; household goods, children's needs such as: cribs, car seats, and high chairs, transportation costs, occupational support, along with the replacement of essential personal items – such as eye glasses, hearing aids, dentures, prosthetics, mobility aids, and refill of essential medications.
The Canadian Red Cross is currently on the ground in Kaslo, assessing the needs of individual families impacted by the slide, operating a Resilience Centre, and providing support to help families recover from this disaster.
Currently the search team has recovered two bodies from the massive mudslide that ripped through the quiet hamlet just over a week ago — that of 60-year-old Valentine Webber and of either 17-year-old Rachel Webber or her 22-year-old sister, Diana.
The other body crews are searching the debris field is that of German visitor Petra Frehse, 64.