Elephant Mountain Literary Festival Will Celebrate Local Words and Wine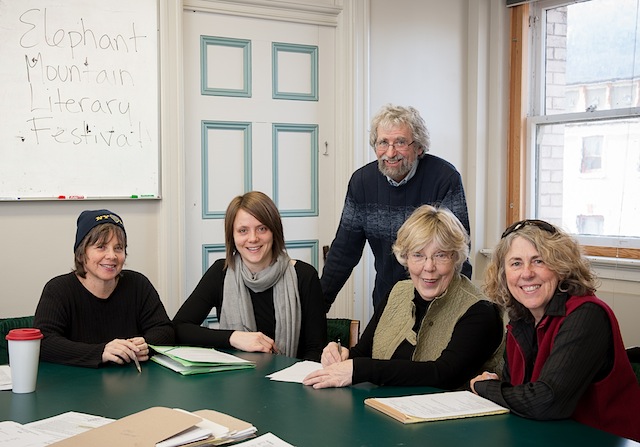 The Elephant Mountain Literary Festival will highlight local culture, writing, reading…. and wine. A number of celebrated writers from across the country will join an impressive group of local authors July 12-15 at the Hume Room and at the Art Therapy Institute at 191 Baker.
Local writer Tom Wayman is one of the organizers. The Nelson Daily asked him a few questions about the festival and the writers who will be attending.
The Nelson Daily: Tom, what's this festival about?
Tom Wayman: We wanted to put together a festival that was small enough that it felt intimate to people that are taking part, with local writers, and that also brought in people that were interesting, charismatic, and inspirational. It's both for readers and writers.
People sometimes have the attitude that if it is local it must not be very good. But I think that if people take in the whole festival they will see that what is going on here can stand up with people that have achieved more recognition outside. It's a chance to showcase the talent and quality of writing locally along with some recognized writers from away, so we will have that mix.
Also, unlike most literary festivals, we are stirring the world of publishing and selling books into the mix, because no art form is separate from its audience.  
We are bringing in young editors and publishers who are hip to the changes that are going on in publishing. 
Because publishing is the interface between someone sitting at home on their computer writing and an actual book, either in electronic form or the printed form. We are not pretending that writing goes on in a vacuum.
Can you give an example of one of these hip young publishers?
Melanie Little. She is senior fiction editor at Toronto's House of Anansi Press. She is a short fiction writer herself and a children's author, but she went to work for a children's publisher then for this prestigious publishing house in Toronto. Her insights into what is happening in publishing are going to be really interesting.
Will that include any discussion of the future of the book as such?
On Saturday morning there is a publishers panel and on Saturday afternoon there is a mixed panel of writers and publishers, and I am sure that will come up in both cases. The overall theme of the festival is writing and publishing the local, so we are talking about not only what we mean by the local, but also how do you preserve it, and how you give back to people a sense of their own environment at a time when they are deluged by celebrity journalism where their own lives might seem less important than other people's. 
Part of that is, if everything is electronic, what does that mean, what does local mean? I know that will be kicked around at those two panel discussions.
Where is all this taking place?
The Friday and Saturday evening gala events will happen at the Hume Room in the Hume Hotel.  The wine-tasting event Thursday evening, and all the panels and other events during the day on Saturday will take place at the Kootenai Art Therapy Institute, which is at 191 Baker St., 2nd floor.
I want to ask you about the writers who are coming in from the outside. Can you tell us about Fred Wah?
Fred Wah is the godfather of writing in the Kootenays. He fought for and got the first creative writing courses at Selkirk, which spawned a lot of writers.  It ran for decades, including when David Thompson University Centre took it over for a few years. Then Fred recently was named Canada's new Poet Laureate so this will be the first time Fred has read to the hometown audience since becoming Poet Laureate.
And John Vaillant?
John Vaillant wrote The Golden Spruce about the sacred tree that was cut down on the Queen Charlottes some years ago and his most recent, The Tiger, was a Canada Reads selection.
It kept me up until three in the morning for three nights in a row. I found it an incredible story partly because the landscape in which the book is set. 
It's set in the extreme far east of Russia, a coastal rainforest that shares a lot of attributes with BC except it has tigers in it. If you thought bears were bad… 
In order to write it he had to immerse himself in the local of that corner of Russia, inhabited by gypo loggers and poachers and semi-illegal trappers and small scale miners and some of the characters he described are like people you might encounter in northern Washington just over the border here, which is an out of the way corner of a huge superpower, so it seems to have resonances for this area.
_______________________________________________________
In addition to visiting writers, the festival will feature local authors Anne DeGrace, Rita Moir, Eileen Delahanty Pearkes, Jenny Craig, Ernest Hekkanen, and Susan Andrews Grace.
There will also be performances by spoken word artists Samuel Stevenson, Will Klatte, Elena Banfield, Geordi Campos, Elena Banfield, and Kindredheart, along with music by Paul Landsberg and Laura Landsberg.
____________________________________________________
What's the wine connection?
We wanted the festival to be fun. In Calgary where I taught for 8 years these combinations of wine tastings and readings have been wildly popular. 
The idea is to match the qualities of the writing of some local authors with the qualities of some BC wine, and we pitched the idea to BC Wineguys which is Nelson's only BC-only wine shop and they liked the idea so we are going to try it out. 
The authors love the idea that their writing could be matched with a particular wine and maybe they will buy a case of whatever wine they are linked to. For everyone it is an evening of wine-tasting along with short readings by the authors so people can judge for themselves whether the quality of the wine matches the quality of the writing.
I want to ask about a couple more of the visiting writers now. Can you tell me about Lisa Moore?
Lisa Moore is a Newfoundland novelist and in Canadian fiction at the moment there is this intense attention to a kind of writing that is coming out of Newfoundland, and she is a good example. It is intensely local in its subject matter—her last novel February dealt with the Ocean Ranger disaster, and so she looks at that from the point of view of the women and children who were left behind, and as with all her writing it is involved with the fabric of Newfoundland. But there is a quality in her writing that people in Toronto want to publish her and read her. 
And Sheri-D Wilson ?
Sheri-D Wilson is a dramatic character who founded and build the Calgary Spoken Word Festival, which is now huge and she built if from nothing to a quarter-million dollar budget. And she founded and directed the spoken word program at the Banff Centre, so to have her here will boost an already burgeoning interest in spoken word around here.
Are you surprised that there has not been a literary festival here before now? 
We are picking up part of something that used to exist here called the Kootenay Lake Summer School of the Arts. It ran for decades when David Thompson was going. It brought to Nelson a wide range of summer programming, everything from bagpipes to pottery to literature. I remember Margaret Atwood coming and I remember interviewing her for the local radio program. People keep talking about resurrecting that because it was a huge tourist draw, they'd come and spend a week in Nelson and take courses.
Why should non-writers come to the festival?
All of us, writers and readers, are part of the community that is being depicted by our artists. When people talk about writing the local, they are talking about preserving and examining the cultures that we build wherever we live. This is a chance to do that in a fairly intimate setting—it is not some huge festival with hundreds of people. These will be small sessions with a chance for one-on-one. 
It will be enjoyable and the people we have in the festival are articulate and profound.