Balfour golf pros receive award from ALS Society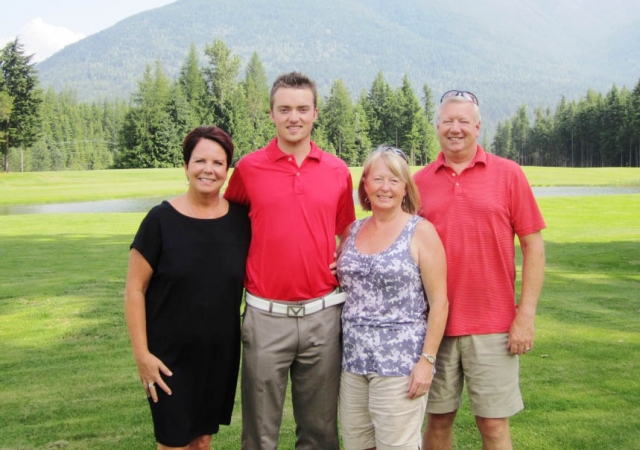 Balfour golf pros Braden Chown and Craig Wilkinson went above and beyond a normal round of golf with friends after the duo raised more than $1,000 for the ALS Society of B.C.
Chown and Wilkinson managed the feat by golfing 360 holes at the Balfour Golf Course during the annual Golfathon for ALS in June.
During the month of June — ALS Awareness month — 80 Golf Pros and Juniors, at  37 golf courses located throughout B.C. participated in the PGA of B.C. Golfathon for ALS.
Friday (July 13)  Wendy Toyer, Executive Director for the ALS Society of B.C. presented Chown and Craig Wilkinson with a certificate of appreciation on behalf of ALS Society to thank them personally for their efforts.
The ceremony was held at the Balfour Golf Club.
Anyone wanting to donate to the cause can do so at: www.golfathonforals.ca
Amyotrophic lateral sclerosis (ALS), also referred to as motor neuron disease in British English, is the most common form of the motor neuron diseases.
The condition is sometimes called Lou Gehrig's disease in North America, after the New York Yankees baseball player who was diagnosed with the disease in 1939.
The disorder is characterized by rapidly progressive weakness of the muscles, difficulty swallowing and decline in breathing ability.