UPDATED: Rise in Kootenay River floods areas near Creston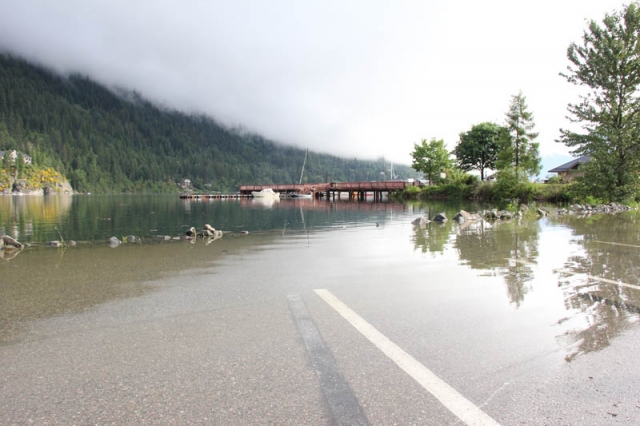 The rise in the Kootenay River has been bad news for Creston as the Regional District of Central Kootenay Emergency Operations Centre has closed Peterman Road completely due to flooding Wednesday.
The Leach Lake and Duck Lake dike areas of the Creston Valley Wildlife Management Area (CVWMA) are also closed to the public.
"Parts of Peterman Road are covered to a depth of 30-plus centimetres of water," said RDCK Public Information Officer, Bill Macpherson in a written press release.
"As an alternate route, the Ministry of Transportation and Infrastructure (MOTI) and contractors Yellowhead Road and Bridge (YRB) are improving the MOTI right-of-way off Smith Road with loads of gravel and brushing. The right-of-way is currently single lane, alternating traffic."
Macpherson said CVWMA authorities are planning to use water control measures to let water into Leach Lake in order to equalize the pressure on the dikes.
This will result in flooding (two to three meters potentially) over internal dikes in the Leach Lake area, necessitating the closure. Work is also ongoing at Duck Lake.
Residents should be aware the latest projections for Kootenay Lake could see a peak level of 1754 feet or slightly higher. 
Currently the lake is at 1753.1 feet. This forecast is dependent on weather patterns, inflow and discharge amounts from dams on the Columbia-Kootenay river system over the next few days.
Meanwhile, back in the West Kootenay, the RDCK lifted the State of Local Emergency declared Saturday, June 23, 2012 concerning the landslide which closed Broadwater Road north of Robson.
Macpherson said progress on road repairs and diminished threats from flooding make the declaration no longer necessary at this time.
In Area D, the loss of a dam on Kemp Creek that controlled the Village of Kaslo's primary water system has prompted the village to declare a State of Local Emergency.
Currently, the backup emergency system is providing water to residents although strict rationing is in effect.
States of local emergencies remain in place in Areas A, B, C, H and I.
Evacuation orders lifted in RDCK, Kootenay Lake nears record levels
Staff at the Regional District of Central Kootenay Emergency Operations Centre is asking the public to be vigilant around creeks and rivers as water levels continue to rise.
"The record precipitation amounts in June have initiated numerous flood events since the early part of the month," said RDCK Public Information Officer, Bill Macpherson in a written press release.
"Intense rainfall (upwards of 60-80 millimetres over 24 hours in localized storm cells) last weekend resulted in a number of flood events and numerous states of local emergencies, evacuation alerts and evacuation orders being declared."
Despite the recent rainfall, close to 15 families were allowed back into homes on Slocan Valley West Road Tuesday morning.
Lower flows on Slocan River allowed officials to rescind the evacuation order and open the road thanks to late night work bhy the Ministry of Transportation and Infrastructure and Yellowhead Road and Bridge staff.
However, the residents remain on evacuation alert.
Near Robson, Broadwater Road continues to be a single lane after the weekend mudslide while Pass Creek/Goose Creek continues to be monitored.
In Crawford Bay, an evacuation alert has been lifted as to four homes near Crawford Creek.
The combination of record precipitation and runoff from creeks and streams has elevated Kootenay Lake to near record levels.
Kootenay Lake is currently at 1753.0 (as of midnight June 25), about a foot below the modern historic level of 1754.24 set in 1974.
"People need to be aware of both the danger posed during flood conditions and their responsibility for protecting their land and property," Macpherson said.
Some warning signs the public should consider when approaching streams or rivers are: increase in height and intensity of water flows, mudslides, debris in creeks, colour changes in water or leaning trees. Exercise extreme caution on banks of rivers and streams as they are likely saturated and potentially unstable and dangerous (undercut).
To assist property owners in potential flood areas, designated Fire Stations throughout the Regional District have sandbags available for emergency use, as does the Kaslo Public Works yard and the RDCK head office at 202 Lakeside Drive in Nelson.
Stockpiles of sand have been established at locations around the lake and district. If high water is threatening your property these materials are useful but personal safety is far more important than property and belongings. Stay safe!
For more information on personal/family preparedness including details on proper sandbagging techniques, visit the Provincial Emergency Program web site: www.pep.bc.ca
For information on river levels: http://bcrfc.env.gov.bc.ca/warnings
For Kootenay Lake Levels, visit: www.fortisbc.com/Electricity/CustomerService/KootenayLakeLevels
For RDCK Public Notices please go to: http://www.rdck.bc.ca/publicinfo/notices.html .

TO REPORT A FLOODING EMERGENCY OR EVENT call 1-800-663-3456 or contact the EOC at 1-877-552-7701.