U14 Selects pitch shutout en route to Kootenay Zone Playdown title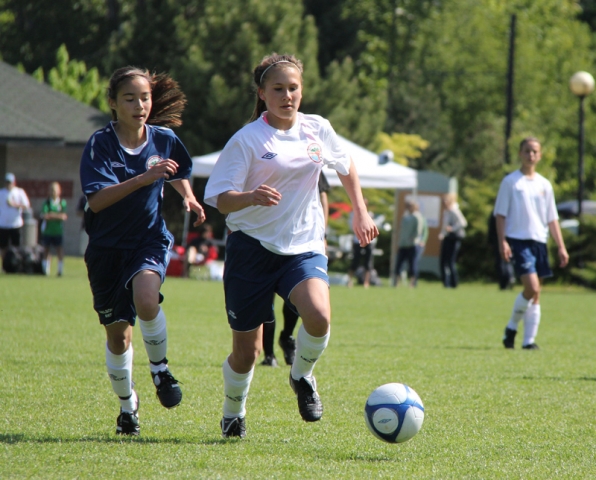 It's an age-old adage that defence wins championships.
The Nelson Selects are well onto their way for a great performance at the B.C. Soccer Provincial B Cup in Kelowna after pitching a shutout in four games en route to the Kootenay Zone U14 Girl's Playdown title Sunday in Creston.
Nelson defeated Creston, Kootenay South (KSYSA), Cranbrook (KEYSA), and Columbia Valley (CV) and finished with a perfect record of 4-0 and a big goosegg in the goals allowed category.
"We're very proud of the team's performance at the 2012 playdowns," said coaches Paul Burkart and Pat Perkins.
"The squad controlled play during most of their games, and rock solid defending by defensive backs Kyra Burkart, Maya Mierau, Merissa Dawson, Kali Horner and Emma Gregorich with keeper Haley Cooke earned an impressive tournament shutout."
The Reps opened with a narrow 1-0 decision over Kootenay South on a cold, rainy Saturday morning.
Brownwyn Sutherland scored the only goal of the game by converting a rebound from the Kootenay South keeper. 
Nelson then got the offence in gear Saturday afternoon against the hot Creston side, scoring an easy 8-0 win.
Darian Voisard opened up the scoring with less than two minutes played, followed by two goals from Naomi Perkins and a single from Lakpa Dietz to make the tally 4 – 0 at the half. V
Voisard was unstoppable in the second half adding three more goals while Camille Gebhart added a single.
Sunday morning the Nelson Selects faced the squad from Cranbrook and controlled play for most of the game.
Despite many quality scoring opportunities, Nelson was unable to convert until Camille Gebhart opened up the scoring with an impressive strike from outside the penalty area.
Gebhart added a single in the second half.
In the final game of the tourney, Voisard, Dietz, Emily Graeme and Merissa Dawson, on a successful penalty kick, scored to give Nelson a 4 – 0 win over Columbia Valley.
The Selects now advance to the Provincial B Cup July 5-8 in the Central Okanagan City.