Mallard's Source for Sports Team of the Week — U14 Selects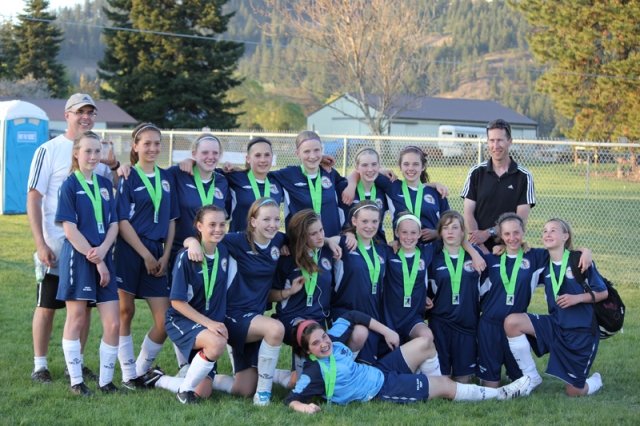 Nelson Youth Soccer U14 Selects have been on a bit of a run of late, capturing a pair of medals on the Girl's Rep Soccer Tour.
The Reps recently defeated city rivals U13 Selects to capture the gold medal at the Terry Walgren Girl's Soccer Tournament Sunday at the Lakeside Pitch.
Previously, the Selects earned a silver medal in Coeur d' Alene.
Staff and management at Mallard's Source for Sports would like to honour the Selects with Team of the Week accolades.
The team includes, back row, L-R, coach Paul Burkart, Allie Zondervan, Lakpa Dietz, Natanya Hanley, Isabelle Morley, Naomi Perkins, Kyra Burkart, Camille Gebhart and coach Pat Perkins.
Front, Emma Gregorich, Maya Mierau, Darian Voisard, Merissa Dawson, Bronwyn Sutherland, Maddy Sternloff, Amelia Martzke, Emily Graeme and goalkeeper Haley Cooke. Missing, Kali Horner, Emma DeCosta and Morgan Livingston.