Former Nelsonite, Alan Watson, returns to old stomping grounds to release his latest book, CATCH ON AND RUN WITH IT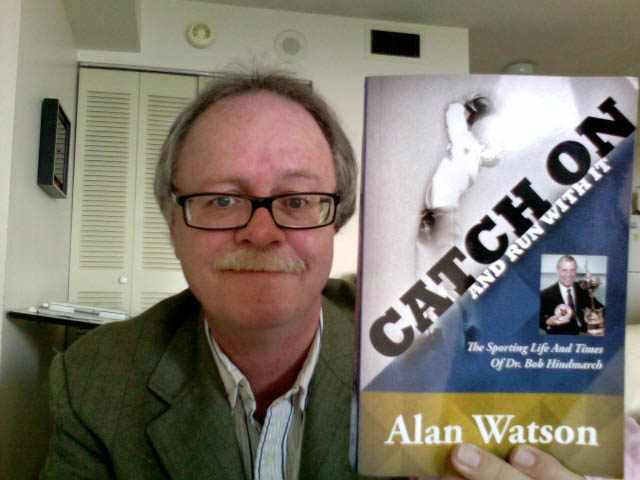 When Alan Watson left L.V. Rogers High School in 1975 his goal was to be a dentist.
Funny how goals can change.
Watson, 54, has been a sports editor at more than 10 newspapers around the world, was the general manager of a senior hockey team in Abbotsford along with toiling as a racquetball professional at clubs in both Calgary and Vancouver.
But the Nelsonite experienced an even more life-changing shift to his career in 2003 when he decided to become a self-published author.
Watson unveils his latest title, Catch On and Run with It, The Sporting Life and Times of Dr. Bob Hindmarch from 1-3 p.m. at Otters Books at 398 Baker Street in Nelson.
"I was really planning to go to university and apply for dental school, but to my eternal gratitude (NDN Managing Editor) Steve Bareham gave me the chance to become the Sports Editor at the Nelson Daily News in 1977 and my love of the written word has grown to match my passion for sport," Watson told The Nelson Daily on the eve of his return to his old stomping grounds for a book signing at Otter's Books.
"And while Nelson's contribution to the scholarship debate in Canada looms large in A-Plus In Disconnect, I am tickled pink that "the old hometown" makes appearances in all three of my books.
"Not only was it an idyllic place to grow up, but the bottom line is becoming Sports Editor of the Nelson Daily News set me on my life's path."
Catch On and Run with It is the third in the Watson library since the avid sports junkie returned from a job as Sub-Editor at the Asia Times Online in Bangkok in 2003.
The other two are Athletes and Other Lower Types: A Globe Trotter's Tale, a story about Richie Nichol, the first white man to suit up and play for the Harlem Globe Trotters; and A-Plus in Disconnect: How Canadian Universities Dropped the Ball, a book about why Canadian athletes continually make tracks for schools south of the border.
Catch On and Run with It documents the life and times of Dr. Bob Hindmarch, who entered the University of B.C. in the late 1940's and, simply, never left.
Hindmarch went from athlete at the Point Grey campus to Mr. Everything at UBC.
He was part of the negotiations for the 72 Canada/Russia Super Series and a member of the Canadian Olympic and B.C. Sports Hall of Fames before receiving the Order of BC in 2010.
 "To research A-Plus In Disconnect I traveled across Canada to talk to the likes of Iona Campagnolo, Nancy Greene, the Canadian Olympic Committee, Sport Canada, and numerous Athletic Directors at Canadian universities . . . and to Nelson, of course, to research Ernie Gare's groundbreaking scholarship program at Notre Dame University," Watson explained. 
"Bob, the former AD at UBC, was my final interview subject."
"We hit it off personally, instantly, and out of the blue he asked me if I would be interested in writing his biography," Watson added.
"He gave me a brief summary, dropping names like Father David Bauer, Frank Gnup, and Anatoli Tarasov, the fact he'd been chef de mission of the 1984 Canadian Olympic team in Sarajevo, and the huge role he ha long played in Vancouver being awarded the 2010 Winter Olympic Games.
"Once I picked my tongue back up off the floor it took me all of a second to agree.
Watson, born in Athabasca, Alberta, spent most of his young life in the Heritage City.
The graduate of Concordia University in Montreal with a BA in English in 1981 who enjoys all sports, said it took more than five years chop down a mountain of information into the 557-page book.
The "one part biography and one part Canadian sports" book is self-published and will be available for $34.95 during Saturday's book signing at Otters.