U14 Selects outlast younger rivals en route to gold medal at Terry Walgren Rep Tournamenet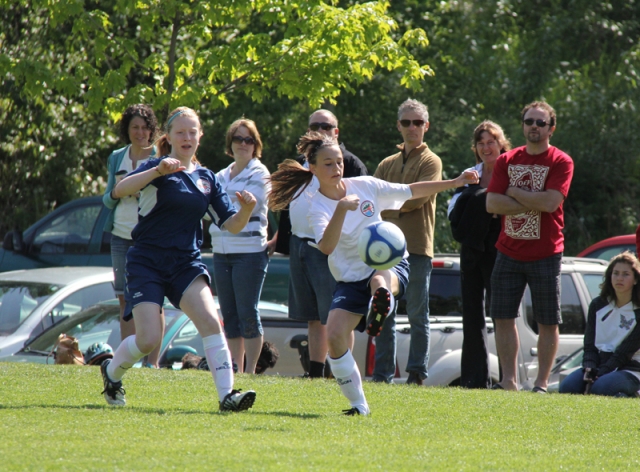 It was an all-Nelson affair with the older girls taking the top prize in the U14 Division at the Terry Walgren Girl's Rep Soccer Tournament Sunday at the Lakeside Pitch.
Darian Voisard scored twice and Kyra Burkart added a single to spark the U14 Selects to a hard-fought 3-0 decision over the U13 squad.
All the goals came in the first half.
"We were very pleased with the team's performance feeling the players worked well as a unit, with solid play from all positions," said U14 coach Paul Burkart.
While the coaching staff of Burkart and Pat Perkins was pleased with the offensive side of the ball, the pair was equally impressed with the team defence, as Nelson did not allow a goal in four games.
"Defenders Merissa Dawson, Maya Mierau, Kali Horner, Emma Gregorich and Kyra Burkart and goalkeeper Haley Cooke were rock solid in the four shut out victories," Burkart exclaimed.
The Reps opened the tourney Saturday pounding Kootenay South 8-0.
Voisard, with a pair, Lakpa Dietz and Isobel Morley scored first half goals for the U14s.
In the second half Bronwyn Sutherland opened up the scoring before Maddie Sternloff added a pair.
Dietz concluded the scoring for Nelson.
The Reps continued to cruise as the squad shutout Creston Blitz 4-0.
Camille Gebhart led the scoring with one goal in each half, with additional markers added by Voisard and Sternloff.
In a preview of the final, the U14 Reps dumped their younger Rep cousins from Nelson 4-0.
Dawson opened up the scoring midway through the first half before Amelia Martzke and Sutherland and Voisard completed the scoring.
The gold medal comes on the heels of a silver medal showing earlier this month in Coeur d'Alene Eisenwinter tournament.
The Reps went undefeated before dropping the final.
Nelson Select teams have a weekend off before the Zone Qualification tournaments at various sites throughout the Kootenays.
The U14 Selects travel to Creston for the zone playdown.
The Central Okanagan Youth Association in Kelowna hosts the B.C. Provincial B Girl's Cup July 5-8.
The boy's tournament is the same weekend in Aldergrove.