Spring is back . . . and so are the bears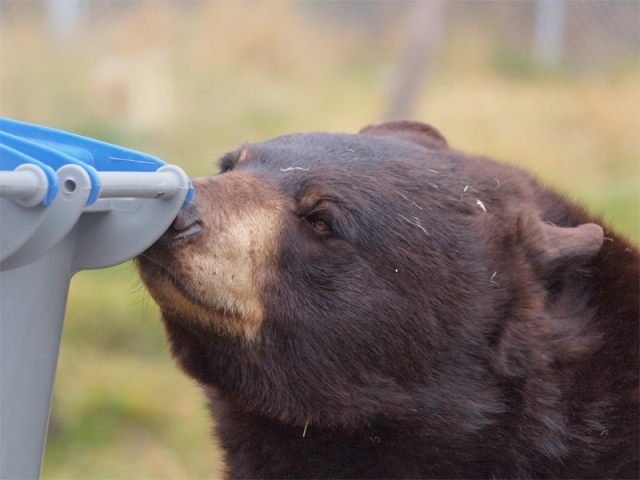 Recenty sightings in and around Nelson has placed Bear Aware on high alert as organizers look to help the public and bears live together.
"Recently, the presence of bear attractants has been causing conflicts between people and bears," said Joanne Siderius, Bear Aware Community Coordinator in a written press release.
"A young black bear is entering vehicles on the North Shore, and bears have been reported getting into garbage and bird seed in Blewett."
Siderius said in 2011, 15 black bears were destroyed within the area, including two in the City of Nelson. 
Most of these animals were destroyed because they were feeding on garbage or fruit. 
The two grizzly cubs that were relocated from the area in 2010 returned in 2011.
The cubs were consistently eating garbage in Nelson and Blewett and were destroyed after charging a resident. 
"An average of 600 bears are destroyed in B.C. annually — most of these due to poorly managed bear attractants," Siderius explained.
"We can prevent this destruction of bears and keep our neighbourhoods safe by managing our bear attractants."
Bear Aware has some reminders for the public:
·    Please keep your garbage in a location inaccessible to bears. If you do not have secure garbage storage, you can freeze the smelly food items until collection or you can take the garbage directly to the landfill.  You can also use a bear-resistant garbage can (visit bearaware.bc.ca for a list of suppliers). 
·    Bird seed is particularly attractive to bears in the spring season. Birds do not need additional feed in the summer.  Bring bird feeders in until November, or they may become bear feeders. 
·   Compost, chickens, and pet food are also items that, when managed improperly, become bear attractants. 
"There are now significant fines for this offence under the Wildlife Act," Siderius said. "Nelson also has a wildlife attractant bylaw that regulates the presence of bear attractants in the city."
To learn more about identifying and managing bear attractants near your home by visiting www.bearaware.bc.ca or emailing Siderius at nelsonrdck@bearaware.bc.ca.